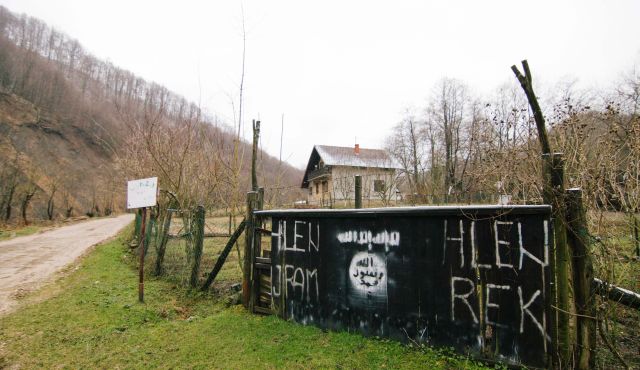 Sarajevo, June 15, 2015/ Independent Balkan News Agency
By Mladen Dragojlovic
Bosnia and Herzegovina, regarding the fight against ISIS, finds itself at a distinct position in many ways, but the most unusual one is that weapons from this country are being used by all sides in Syria and Iraq.
BiH Presidency Chairman, Mladen Ivanic, said for IBNA that BiH is part of the Coalition against ISIS, leaded by the USA, and that it will be a part of it for much longer.
"We donated ammunition to the Iraqi government for the fight against ISIS, a few months ago, on demand of other partners in the Coalition. In that way we confirmed our membership in the Coalition", Ivanic stressed.
He added that BiH Presidency adopted a decision on membership and that all those who said that this decision doesn't exist, are mistaken.
Recently, US Special Presidential Envoy for the Global Coalition to Counter ISIS, General John Allen, visited BiH and had meetings with Presidency members and BiH Grand Mufti, Husein Kavazovic. As it is announced from US Embassy in BiH, in all his meetings General Allen expressed his appreciation for BiH membership in the Global Coalition to Counter ISIS and its participation in the Foreign Terrorist Fighter and Counter Finance Working Groups.
"General Allen affirmed the importance of enhancing our information and intelligence sharing to help halt the flow of foreign fighters, including developing a fully-coordinated response to terrorism, harmonizing legal and security measures with Bosnia and Herzegovina's neighbors, and further enforcing existing laws. General Allen noted his appreciation for BiH's recent donation of ammunition to Iraqi forces combating ISIL, for our strong bilateral cooperation on counterterrorism issues, and for working-level law enforcement and intelligence officers who work every day to counter terrorism and violent extremism, said Embassy in announcement.
But, analyst for terrorism and security, Dzevad Galijasevic, warns that BiH can and must do much more to fight terrorism. Galijasevic said for IBNA that BiH is in a strange position because, for example, weapon from BiH is used by all sides in this battle.
"ISIS has weapons that are being smuggled from BiH, while Iraqi Government has ammunition donated by BiH. It is a unique situation for the Coalition. Also, a large number of BiH citizens are in Syria fighting on ISIS's side, while BiH is a member of the Coalition", Galijasevic stressed.
He added that BiH Presidency decision on the membership in the Coalition is declarative and it has not been fully implemented at any time. Galijasevic emphasized that there is no international warrants for BiH citizens who are fighting at the side of ISIS, there are no attempts to stop a flow of money for ISIS from and over BiH, and there is no political will for real and efficient solutions in this matter.
"Over a thousand internet pages are performing radical Islam propaganda in our languages. On them we can follow events in ISIS in real time. That is the worst propaganda which is poisoning our children with radical ideas, but nobody in country is trying to ban them", Galijasevic said.
According to him, indictments for terrorism and participation in ISIS are not enough to say that BiH fully cooperate with other Coalition members in order to win the battle against terrorism. Galijasevic warns that BiH, in this moment, because of these facts is part of problem, and not part of the solution, adding that BiH is a very important for ISIS because it can be used as a base for the spreading of radical Islam all over Europe.
photo: www.haaretz.com