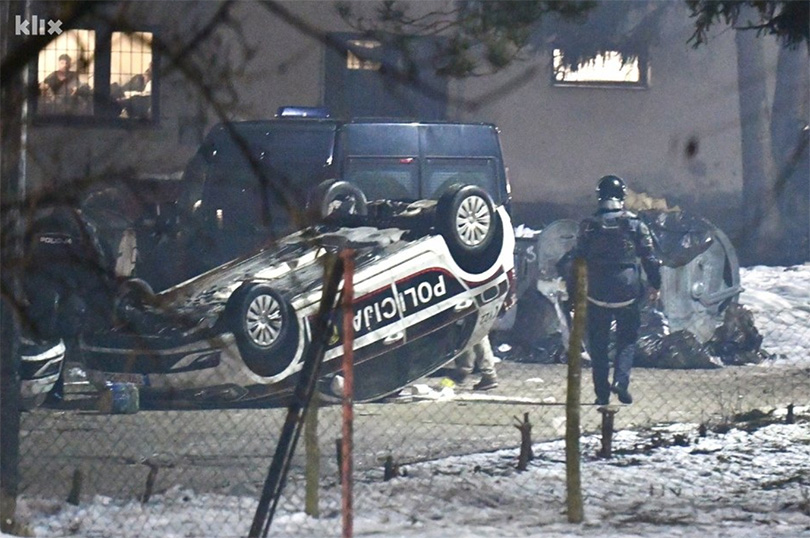 Two people were injured and several were arrested following the large-scale riots that broke out on Wednesday night at the Migrant Reception Centre in Blažuj, near the Bosnia and Herzegovina capital of Sarajevo.
An official from the International Organization for Migration (IOM) was also allegedly injured. According to a police statement, several official police vehicles, IOM vehicles, as well as the premises of the temporary reception centre were damaged, alongside IOM-owned computer and office equipment located in that centre.
The Police were informed on Wednesday at around 8 pm about a fight and a gathering of several people of Asian origin, identified as migrants in the area of ​​the reception centre in Blažuj.
"Several police patrols, as well as members of the Police Support Centre, were sent to the scene to restore public order and peace," the Sarajevo police stated.
Members of the Police are working to determine and clarify all the circumstances under which the violence, injuries, attacks on police officers, theft and property damage occurred.
The causes of the incident are still being determined, with two versions circulating unofficially. One is that Sunni and Shiite groups clashed in the camp after an Iranian "insulted Prophet Muhammad." According to another version of the story, the riots began when IOM officers tried to move a migrant who was the leader of a violent group to another camp.
The migrant and refugee problem in BiH is growing, with the actual numbers of those currently located in the country remaining unknown. The European Union demands that migrants be distributed across the entire territory of BiH instead of clustering in Sarajevo and Una-Sana Canton. However, such ideas are opposed by the authorities in the Republika Srpska and some of the cantons in the Federation of BiH predominantly occupied by Croats. The EU has so far allocated over 85m euros to organizations accommodating migrants and refugees, however their status is still on the brink of a humanitarian catastrophe. /ibna