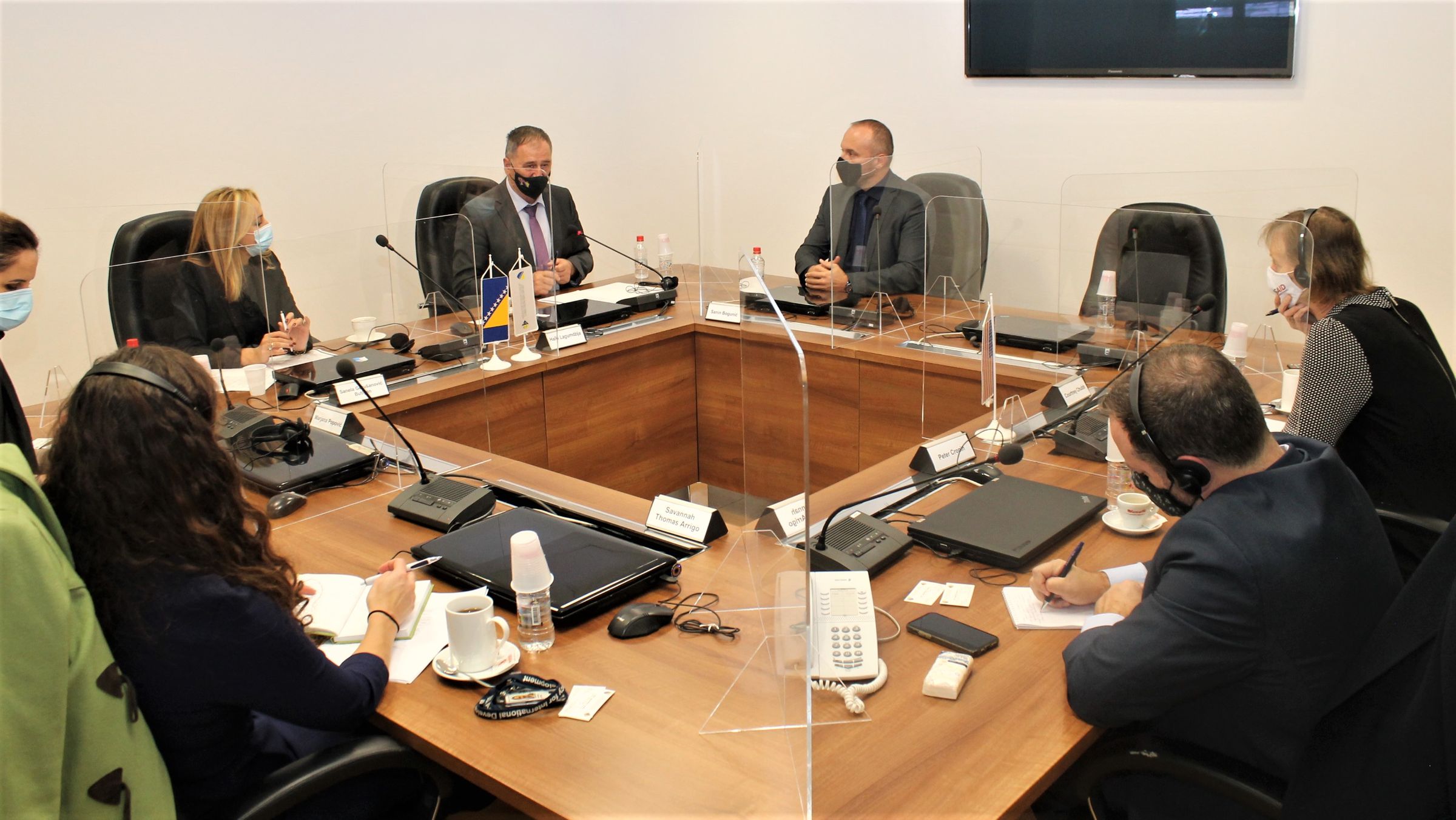 The Director of the USAID Mission to Bosnia and Herzegovina, Courtney Chubb, visited today, with her associates, the Presidency of the High Judicial and Prosecutorial Council of Bosnia and Herzegovina.
The meeting was attended by President Halil Lagumdzija, Vice President Sanela Gorušanović Butigan and Permanent Member Sanin Bogunić, while the USAID delegation consisted of Mission Director Courtney Chubb, USAID Democracy Office Chief Peter Cronin and Head of Program and Planning Office Savannah Thomas Arrigo.
During her presentation, Director Chubb said that the USAID BiH Mission has been supporting the judiciary in Bosnia and Herzegovina for many years, as well as the HJPC BiH since its establishment in 2003, and that she believes that many positive changes have been made in the past. "The judiciary is the first line of defence against corruption and abuse of office," Chubb stressed.
President Lagumdžija said that the issue of efficient processing of organized crime cases is a key issue for the successful functioning of the rule of law. He emphasized that providing preconditions for successful processing of these cases, in addition to basic competencies, is one of the most priority issues in the HJPC in BiH. He briefed the USAID delegation on the activities undertaken by the HJPC BiH to improve the work of the judiciary and the institution itself through the Reform Program and its Action Plan, as well as other strategic documents and plans.
Vice President Gorušanović Butigan introduced the guests to the activities undertaken by the HJPC BiH related to improving the transparency of the institution and the entire judiciary through the development of the Communication Strategy of the HJPC BiH while the permanent member of the HJPC Bogunić mentioned some of the specific activities related to improving the prosecution system and corruption.
At the end of the meeting, Director Chubb pointed out that she was pleased with the readiness of the new leadership of the VSTS BiH to devise creative solutions to the challenges facing the system and that USAID was available for any kind of support in creating these solutions.
The Presidency of the HJPC BiH thanked for the support so far, expressing hope that the successful cooperation will continue in the future.