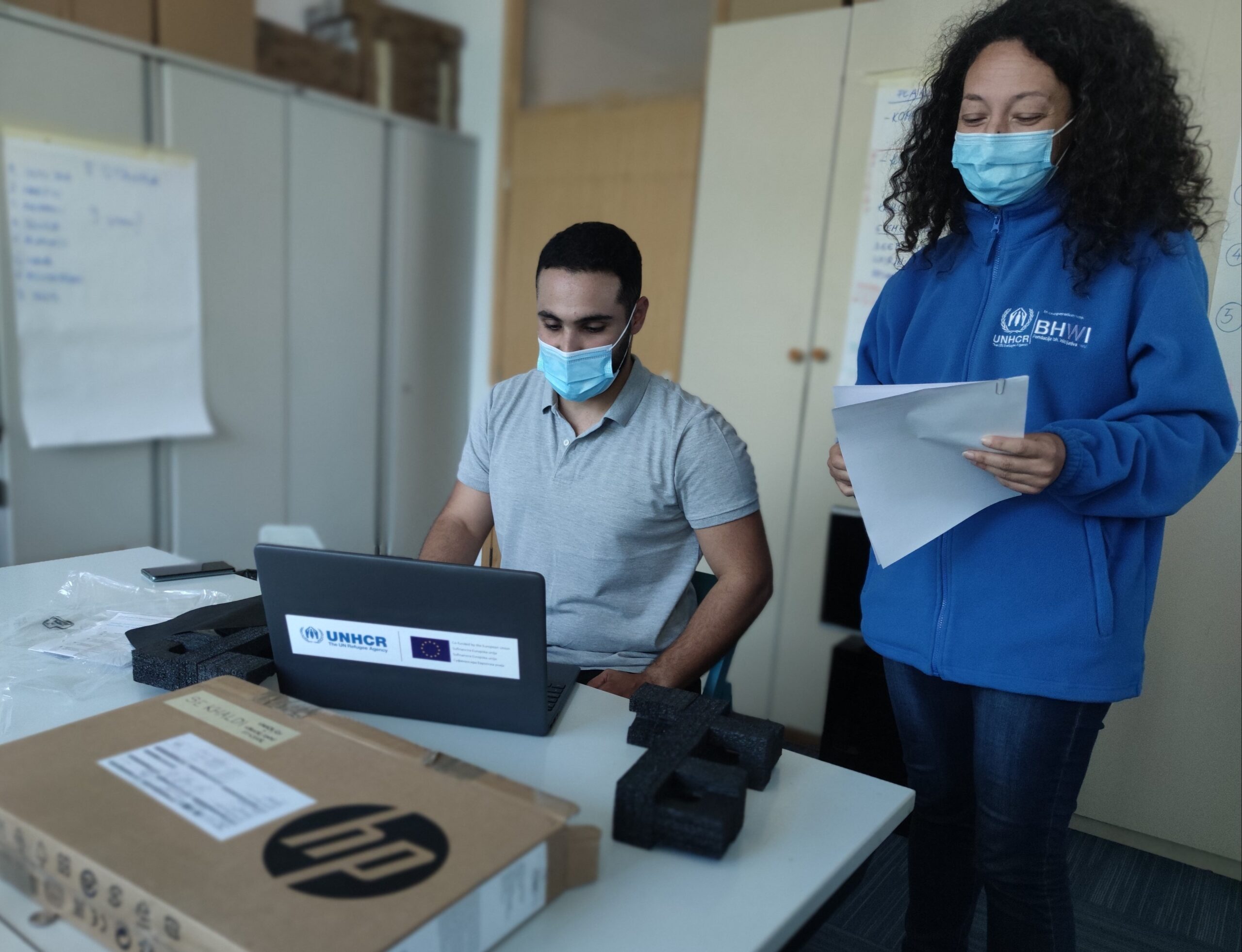 Thanks to the European Union, UNHCR, the UN Refugee Agency, through its partner organization BHWI Foundation distributed IT equipment and school supplies to pupils and youth who are refugees and asylum-seekers in Bosnia and Herzegovina during the first half of September, aiming to improve access to educational materials and online tools for non-formal education.
"This valuable donation, the laptop I received, will help me attend the courses offered by the Coursera for refugees. Knowledge of Arabic, English, and Bosnian language, enabled me to find a job in BiH, but I would like to learn more languages ​​because I noticed that I am good at it," said Saifeddin, a young man from Syria granted subsidiary protection living in Bosnia and Herzegovina.
"I want to learn more about graphic design. It is a craft that requires good quality IT equipment and software, and this laptop I received today will help me to acquire graphic design skills," said Omar*, another young man from Syria with the status of subsidiary protection.
The UNHCR Education Report 2021, published last week, states that the effects of the COVID-19 pandemic have been disruptive for all children, but for young refugees – already facing significant obstacles getting into school – it could dash all hopes of getting the education they need.
In almost every country, the enrolment rate for refugees is significantly lower than the rate of host community children. The data also shows that from March 2019 to March 2020, gross enrollment rates for refugees at the primary level stood at 68 per cent.
Enrollment in higher education was at 5 per cent in 2020, a 2-point rise compared to the previous year and the gain that represents a transformational change for thousands of refugees and their communities. It's an increase that also offers hope and encouragement to younger refugees facing daunting challenges accessing an education.
UNHCR partner BHWI will continue to provide psychosocial support in integrating parents and children seeking asylum, recognized refugees, and those with subsidiary protection, emphasizing education and the acquisition of new skills and knowledge.
These activities were implemented with the support of the European Union Instrument for Contribution to Stability and Peace through the UNHCR/IOM joint project "Enhancing Social Cohesion in Communities Hosting People on the Move."