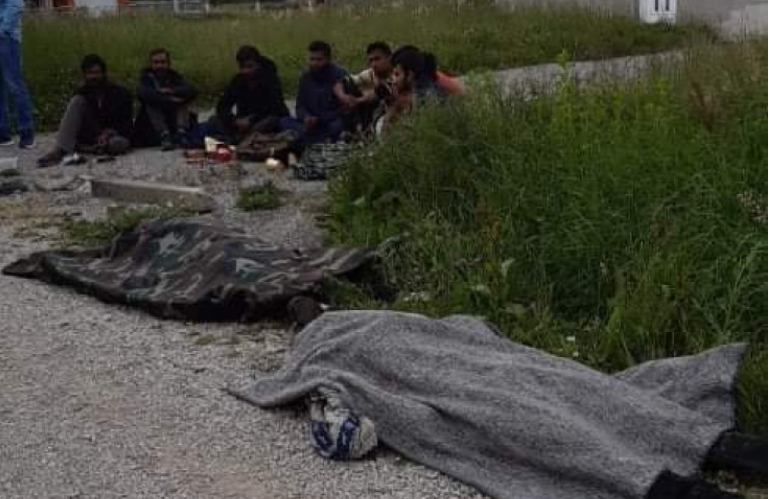 Una-Sana Canton Police, in Federation BiH, is still trying to identify the two migrants who were killed in the clash of two groups near the city of Cazin.
On Friday, police spokesperson Ale Šiljdedić said to the media that they got the information about the case on Thursday afternoon.
"When police officers came on the spot, they found two bodies with stab wounds on the road and several migrants trying to help them", Šiljdedić said.
According to unconfirmed information, the third migrant linked with this case died later in an ambulance.
Clashes between various groups of migrants are not an unusual occurrence in BiH. Few days before this case, one migrant in Sarajevo, BiH capital, wounded another migrant with a machete. Clashes in the camps are more frequent.
As the borders along the migrant route are opening again, after the coronavirus pandemic, migrants from Turkey and Greece continue they journey toward EU countries. Bosnia and Herzegovina is one of the last stops before they cross the BiH-Croatia Border and reach their desired destination.
But for some analysts, the problem is not so simple. Namely, many migrants come from the groups that are at war in the Middle East. A large number of them does not have any ID; they do not say their real name and/or background.
As things stand, it is very difficult to divide them into separate camps so they all live in the same place. Thus, clashes that have roots in Middle East appear in BiH.
Analyst Dževad Galijašević believes that many of them are trying to reach EU under order by various radical Islamic groups. Their aim is to move the "battlefield from Middle East to Europe".
"Europe is a new arena to which the Taliban from Afghanistan and Pakistan come through BiH, but also soldiers from Al Qaeda and the Islamic State from the battlefields of Iraq and Syria.
They cannot be together in the same facilities; that much is clear. It is also clear that those whose identity has been established cannot be together with persons of unknown identity.
It is clear to everyone that economic migrants have no reason to hide their identity. That is the quality of terrorists, criminals and war criminals.
According to the Law on Foreigners of BiH, they have no place in BiH and it is necessary to return them to their home country or to a previously registered destination. And that is Turkey.
At the same time, large groups of foreigners, young and aggressive, cannot be in open facilities but under the supervision of the Service for Foreigners in the Immigration Center", Galijašević said for IBNA.
Recently, the Serb member of the BiH Presidency, Milorad Dodik, said that the BiH Embassy in Pakistan unlawfully issued more than 3 000 visas to Pakistani citizens. It means that they can avoid travel through several countries and come to BiH by plane and then to try to go to EU. Allegedly, BiH Prosecution office is investigating the case./ibna