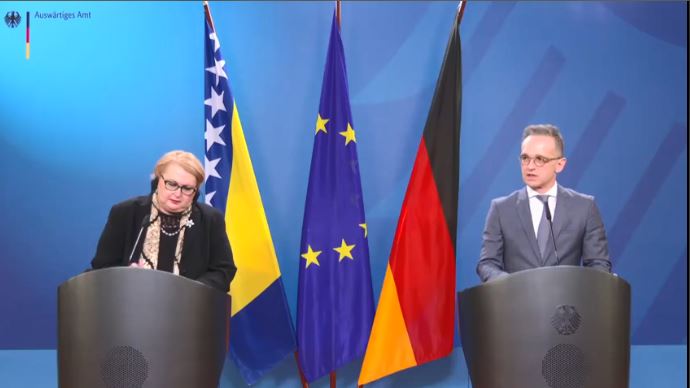 Germany has been and remains one of the greatest friends and partners of Bosnia and Herzegovina through its strong support on the path of recovery and now on the road towards the country's Euro-Atlantic integration, Bosnia and Herzegovina Foreign Minister Bisera Turković said following a meeting with her German counterpart Heiko Maas in Berlin on Tuesday.
Speaking at the press conference, Turković said that despite opposing views coming from various countries, including those in BiH's neighbourhood, the country is getting back on the right track, meeting the obligations stipulated in the strategic documents it has adopted.
"These processes are slow and this is why we need stronger support by the international community, primarily the European Union, in order to accelerate the reforms and for BiH to develop at the pace we strive to," she said.
The officials discussed the pandemic situation and the difficulties that some countries, including BiH, are facing in the procurement of vaccines for their population.
"Today, the whole world is facing the Covid-19 pandemic which affects the lives of citizens. At the same time, parallelly with the ongoing fight against the pandemic, mostly borne by the healthcare workers, the vaccination process is kicking off in many countries. BiH trusted the COVAX mechanism, paid the required amount for the vaccines but we have not received the first doses yet. Our citizens are rightfully dissatisfied and that is why I asked minister Maas to help us solve this problem through the European Commission," stressed Turković.
The two ministers also touched upon the migrant crisis BiH has been struggling with for years, with the Bosnian FM presenting some possible solutions to this problem.
Turković stressed that the international organisations in charge of this issue have yet to provide an adequate response.
"We see a part of the solution in strengthening our eastern border, the distribution of migrants in other parts of BiH across its whole territory, their return to the countries of origin but also in a strong EU engagement," she added.
As for the ongoing discussion on the presence of the Office of the High Representative (OHR) in BiH, the international envoy overseeing the peace implementation in the country, Turković said that there is increased pressure to shut down this institution, noting however that she personally thinks it should "stay in place and get an even stronger and more active role."
"BiH is a complex country with a complicated decision-making system. Once it gets functional, once the political representatives start doing their best to enhance the functionality of the country, once the narrative on the potential division of the country end and we all work resolutely on the progress, that will be the moment we do not need the High Representative anymore. For now, we need his help," she underlined. /ibna