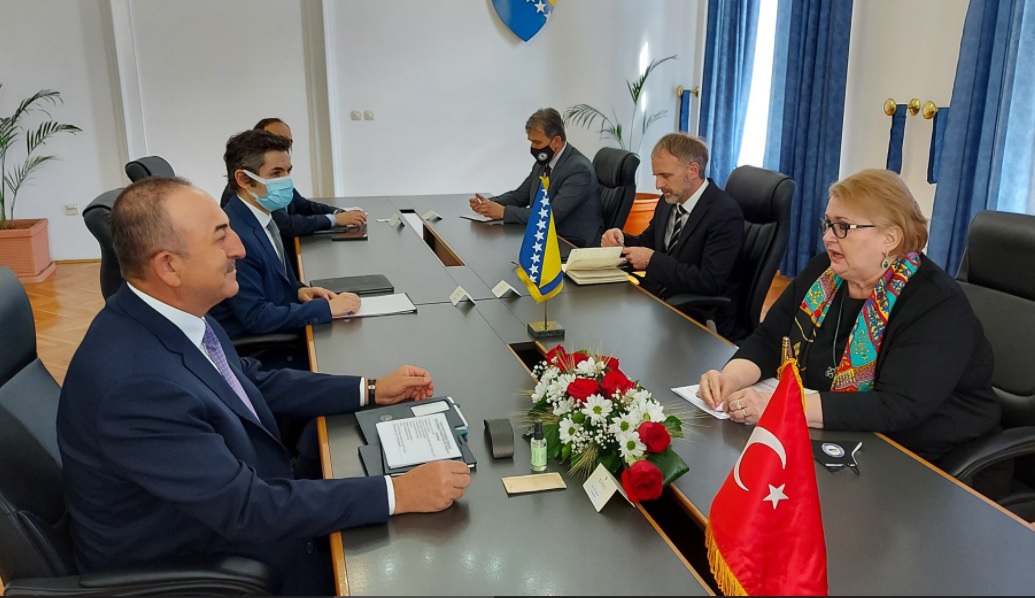 Turkey will continue supporting the progress of Bosnia and Herzegovina, its territorial integrity and prosperity, Turkish Foreign Minister Mevlüt Çavuşoğlu said following a meeting with his BiH counterpart Bisera Turković in Sarajevo on Wednesday.
The relations of the two countries are excellent, Çavuşoğlu stressed, adding that the communication is being maintained regardless of the pandemic.
"We support the integration of BiH and all countries in the Western Balkans into European and Euro-Atlantic institutions. We will resume the growth within trilateral groups because we believe they have a great impact on the region," the Turkish diplomat told the media.
He announced the meetings that Turkey will host in June, which will gather the countries of Southeast Europe.
Speaking to the media, FM Turković said that Turkey "unequivocally supports not only the territorial integrity of BiH but also its road to the membership in the European community."
"Turkey is one of our most important associates when it comes to cooperation with NATO. Turkey is an important foreign trade partner of Bosnia and Herzegovina," she said.
Turković thanked today the Minister of Foreign Affairs of the Republic of Turkey Mevlüt Çavuşoğlu, who is on an official visit to BiH, for the coronavirus vaccines delivered by that friendly country to BiH.
According to her, the relations between the two countries are at the highest friendly level, and at today's session of the Council of Ministers of BiH, the Decision on ratification of the Agreement between BiH and Turkey on cooperation in infrastructure and construction projects should be adopted.
"We are now in the phase of implementation of large infrastructure projects such as the construction of the motorway between Sarajevo and Belgrade with the support of Turkey. It is in the interest of all parties to build it as soon as possible. We believe that this will improve regional ties and strengthen the economy of BiH, Serbia and the entire region," she added.
Turković also stressed that Turkey has a stabilizing and very constructive role in the region, expressing confidence that there is no stability in the entire region without progress and stability of BiH.
Çavuşoğlu is also set to meet Presidency members, the Chairman of Council of Ministers as well as the representatives of the Parliament during his stay in Sarajevo.