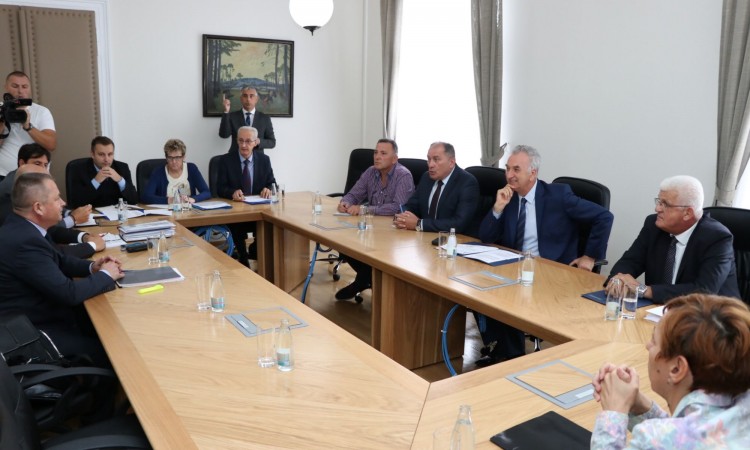 BiH Council of Ministers dedicated about 11 million BAM (5,5 million Euro) in building a new border crossing with Serbia on the location between BiH city Bratunac and the Serbian city Ljubovija.
Seven of the 11 million BAM were made available from Russian Federation's clearing debt, which was recently delivered in an account in BiH central Bank, while the remaining four million BAM (2 million Euro) will be secured by a decision of the Council of Ministers of BiH through the budget for 2018.
The Minister of Foreign Trade and Economic Relations of BiH, Mirko Sarovic, after a meeting on the construction of this border crossing point, said  that it is also good news that the project documentation has been completed. However, few necessary documents have not been provided yet and the issue of property legality is not completely defined.
"RS is in the process of submitting the necessary documentation and proposal of the land lot contract in order to make it available to the BiH Indirect Taxation Authority, which is the key implementer of the project", Sarovic said.
According to the RS proposal, the facility and property will be owned by the financiers or the BiH Council of Ministers, but the land lot will be owned by RS and be rented on a 50-year period.
This, he noted, is the condition for the issuance of a building permit and the call for tenders. Sarovic added that RS informed meeting participants that relevant institutions had solved the issue of access roads, which means that a total of 300-400 m of connections between the border crossing and the regional road will be provided. He also noted that  the intergovernmental agreement with Serbia was not completely negotiated. It means that there is still no Agreement on the Determination of Cross-border Transitions, where the border crossing Bratunac-Ljubovija should be defined. In the past two months, the Ministry of Transport and Communications has negotiated the disputed part of the agreement, which was returned by the Council of Ministers in May, concerning the ownership of the infrastructure or bridge.
The BiH Indirect Taxation Authority General Manager, Miro Dzakula, pointed out that the construction of this border crossing is an extremely complex process that requires synergy between entities, state ministries with the Indirect Taxation Authority and, most importantly, the constant communication between BiH and Serbia.
The first and basic thing to define is the category of border crossing,  Dzakula emphasized, explaining that it is still not determined whether it will be a border crossing, a crossing for passenger traffic or a crossing for goods transport.
Assistant of Minister of Transport and Communications in RS Government, Natasa Kostic, said that the RS Government, with the Indirect Taxation Authority, is currently harmonizing the Contract on the construction of this facility. According to the agreement, the RS Government would give the Indirect Taxation Authority the right to build a common border crossing, without any compensation.
However, Kostic said, several issues are still undefined between RS Government and BiH ITA, but the proposal of the relevant ministry has already been sent to ITA./IBNA