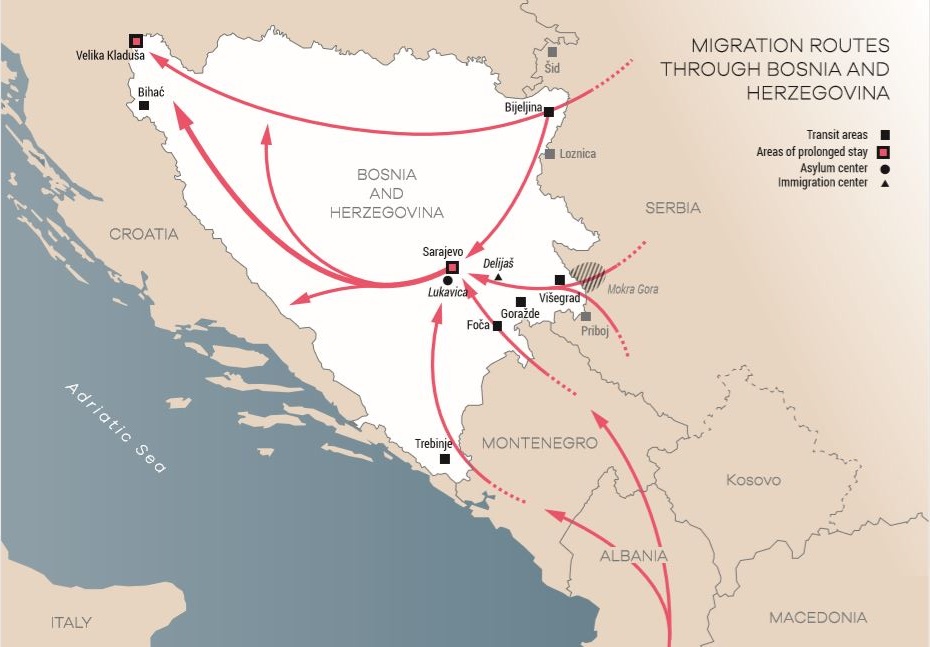 Zoran Galić, Director of the Border Police of Bosnia and Herzegovina, stated that, when it comes to illegal migrants, the problem lies in the EU referring to the Greek borders, which migrants and refugees cross very easily.
"In 2016, we had 155 migrants; a year later there were 765, and in 2018 we recorded 23,400, while last year there were 29,800. We have about twenty days until the end of this year, and we will wait for the final numbers, which will not be insignificant, as it is evident that we have a rapid growth of migrant entries," said Galić.
He confirmed that such an influx is expected in the coming months, stating that the Border Patrol is exchanging data with colleagues from Serbia.
"We do not want to scare the citizens, but there is a huge number of migrants waiting to enter BiH. The problem here is not Serbia but the EU, that is, the border with Greece, which is crossed very easily. We have an illogical situation where migrants come from the EU and then they are halted again on Europe's doorstep in Croatia," Galić pointed out.
He told RTRS that most migrants originated from Pakistan, Afghanistan, Morocco, Algeria, Iraq, Iran, and that Syria was in seventh place during the war.
"It is now clear that these are not war-related flows, but rather serve a certain goal; primarily political and economic," Galić added.
He pointed out that the Border Patrol is 1,300 police officers short for the adequate protection of 1,600 kilometres of the border in the current conditions, explaining that one border patrol officer is currently called upon to cover 25 kilometres of the border.
He added that the Border Patrol uses 85% of its forces to work at border crossings, and only 15% of police officers use the protection of the so-called "green belt" along 1,600 kilometres of the border.
"Amendments to laws and bylaws are also required for better work in the field, for example to specify how to deter migrants from crossing the border. At the onset of the crisis, police officers were more aggressive in protecting the border, however the NGOs reported that we were being too rough. It is disastrous, because a border patrol officer will be afraid of applying deterrent measures to avoid prosecution," said Galić.
He stressed that migrants simply turn a deaf ear to deterrent attempts and continue their journey; sometimes the same group circles around 20 times, and migrants picked up during an illegal crossing who are brought to court are released very soon due to the impossibility of cross-checking their identity. /ibna