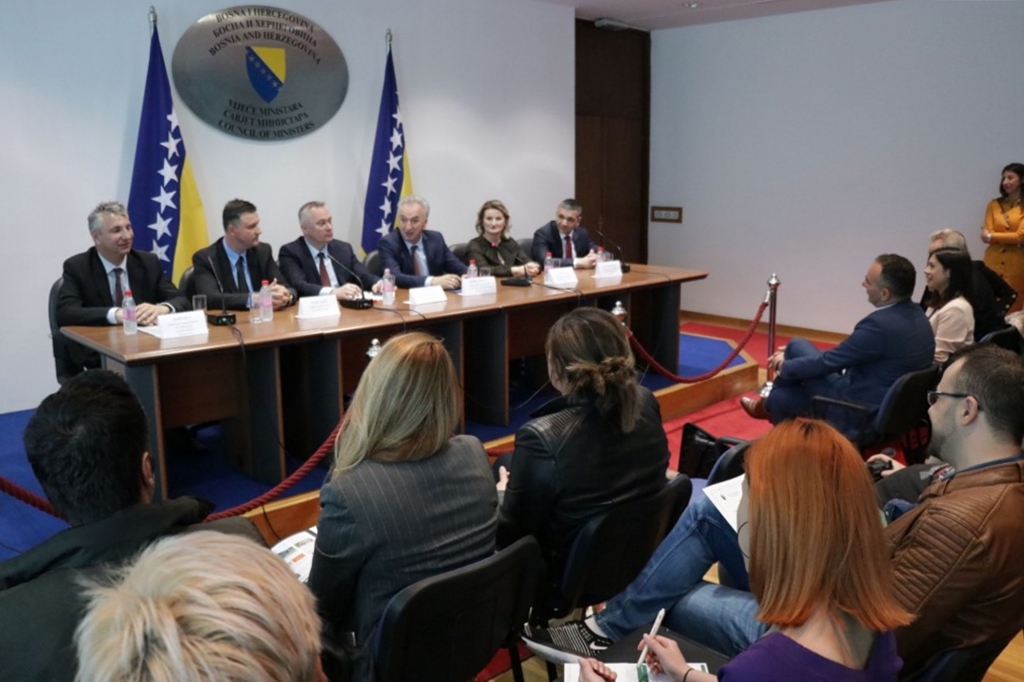 BiH Minister of Foreign Trade and Economic Relations, Mirko Šarović, confirmed today in Sarajevo that Bosnia and Herzegovina is the first country in the region with domestic products that will carry the label "produced without GMO".
The first successful examples of "Produced without GMO" certification and labelling in BiH have been implemented in cooperation with the companies Bingo (Bingo eggs) and Bimal (vegetable oil).
BiH, with 14 countries in the Danube Region, has participated in the development of "Produced without GMO Standard" for the Danube Region and the first country in the region that has adopted the national GNO Guidelines based on this standard. Quality label "Produced without GMO" guarantees that the whole production process is controlled and certified according to the "Produced without GMO" Standard for the Danube Region, which is a unique label for the entire region.
Minister Šarović noted on the press conference that he was one of 14 ministers who signed a joint declaration a few years ago, which marked the beginning of this great and significant project. He pointed out that this project in BiH could not have been implemented without the support of all relevant institutions in RS, FBiH, Brčko District, the competent bodies and agencies in BiH. Šarović stated that BiH has established rules that apply in the entire country, for the production, control, certification, and labelling of products without GMOs.
"We have producers in BiH, the first are Bingo and Bimal in Brčko. I think that BiH is on the right path. In addition to these two first manufacturers, very fast, there will be more like these very soon. This means that BiH, in addition to the consumer rights, has attained an appropriate standard, that it has certified bodies authorized to implement a particular procedure for a product that can carry the label "produced without GMO". This, in my opinion, is the essence," Šarović said.
Head of the Department of Plant Production at the FBiH Ministry of Agriculture, Water Management and Forestry, Mario Beus, said that when it comes to genetically modified food, here, we primarily mean of GMO soybean used as animal food, "and BiH and the whole of Europe import and uses large amounts of GMO soybeans."
"BiH produces about 20,000 tons of soybeans in its territory annually, which is almost three times more than in the last five years, since our ministries cooperate with the Danube River Basin soybean associations. However, this is not enough. BiH still needs five times more than our current production," Beus noted.
He pointed out that "GMO-free" food labeling is important and requires the use of "GMO-free" raw materials.
Director of the Food Safety Agency of Bosnia and Herzegovina, Džemil Hajrić, said that there are two very important guidelines that regulate the way of production and the way of controlling the production of those products that are labelled "GMO-free" and another type of guidelines that define the manner of labelling such products and such food.
Director of Corporate Communications at Bimal, Nataša Pucar expressed her content that BiH now can mark products and give the opportunity to the consumers to choose for themselves.
She mentioned that Bimal has been a member of the Danube soybean association since 2012, "because, here in Bosnia we see a serious opportunity in GMO-free production"./ibna