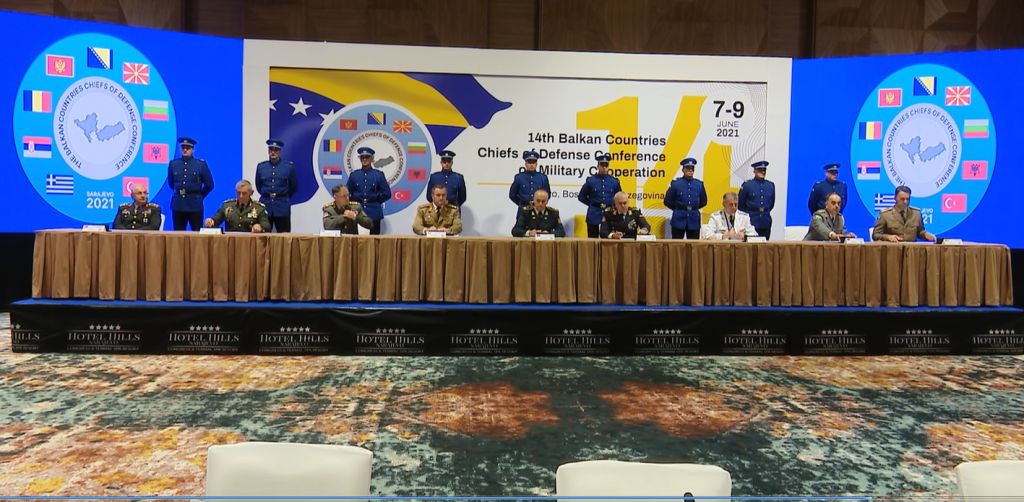 The 14th Conference of the Chiefs of Staff of the Balkan countries on military cooperation (Forum B-9) ended Wednesday with informal mutual contacts, Bosnia's Defence Ministry said.
A three-day gathering aimed at improving the Balkan military cooperation and responding to security challenges in the region resulted in a joint statement, signed on Tuesday (June 8th) by the Chiefs of Staff of nine B-9 Forum member states. The statement concluded that the current cooperation was very successful and meaningful, and pointed out that in the coming period the forum will strive to further improve cooperation.
"This Forum presented an extremely important initiative for strengthening multinational military cooperation in the region, which confirms the desire to strengthen cooperation between the armed forces of the Balkan countries, whose purpose is to promote regional stability and security, as well as strengthening the already established and seeking new cooperation mechanisms. Ultimately, this will result in a better security environment for all our countries," said the main host of the conference, Chief of the Joint Staff of the Armed Forces of BiH, Colonel General Senad Mašović.
The main topic of the conference was called – "Integration: Cooperation and Partnership – Factors of regional and global stability and security – perspectives, challenges and the response to COVID-19".
The members of the B-9 Forum are Albania, BiH, Bulgaria, Montenegro, Greece, Romania, Northern Macedonia, Serbia and Turkey.
In addition to representatives of member states, high-level representatives of the NATO Military Committee, the EU Military Committee, the Joint Forces Command in Naples, the US Armed Forces Command in Europe, as well as representatives of observer countries, ie the highest representatives of the Croatian and Slovenian Armed Forces also took part in the Conference.