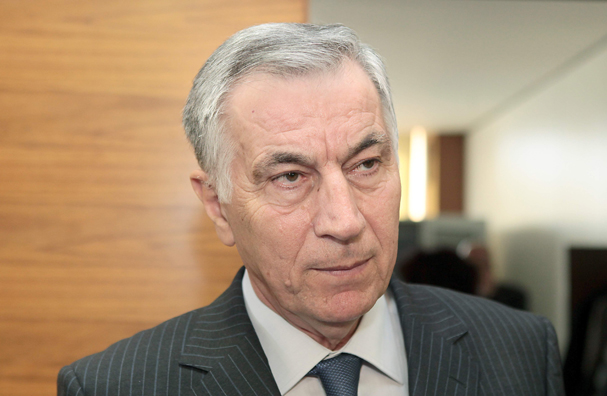 Sarajevo, January 20, 2015/ Independent Balkan News Agency
By Mladen Dragojlovic
BiH minister of civil affairs, Sredoje Novic (photo), warned on Tuesday that the country is under threat of a possible terrorist attack.
Novic is a former intelligence officer, with high position in ex-Yugoslavia intelligence institutions and after the war he was director of State investigation and protection agency. Several years ago he was appointed minister of Civil Affairs in BiH Council of ministers, but he is still respected as a security expert.
"A number of persons who support and are also involved in potential terrorist structures, are positioned in the political structure of BiH", said Novic for the local media, adding that intelligence institutions in the state, five years ago, had information that some persons close to the extremists strive to position themselves inside the political parties and government institutions. But, as he said, they didn't do anything to prevent such a thing from happening.
Novic stated that those persons have already achieved their goal and that security services are afraid of extremists who are close to regimes and states, who recruit terrorists. He added that there were many warnings but without proper reactions from government institutions.
"Several times in the past, director of Intelligence-security agency of BiH, Almir Dzuvlo, warned that in the county exist 3,000 potential terrorists and the point is that BiH is a "barrel of gunpowder". In the state as it is, it is simply impossible to control such a large number of potential terrorists and I am afraid that BiH will soon face a serious problems", said Novic.
He also expressed his doubt that resistance of some Bosniak politicians to the new Law on permanent and temporary residence is motivated by "support to potential terrorists, "sleepers" and intelligence officers from other countries to register on any address including address of state Presidency or religious community. Novic added that it is clear that the reason behind the opposition of this law is not concern for returnees and refugees, but the intention to hide those who during war "cut the heads" of innocent civilians.
"In the last days BiH Federation vice president Mirsad Kebo spoke about these war crimes. He submitted a large number of documents to state Prosecutor office", said Novic.
One of those, whose name is on Kebo documentation, speaker of BiH Parliament Semsudin Mehmedovic, said to the media that he is not surprised with Novic's statements.
"Novic was among the top officials in former Yugoslavia intelligence service, and this institution projected aggression against BiH. So, his underground knowledge of the situation in security sector is not a surprise. He and his colleagues supported the people who divided BiH and therefore are directly responsible for the evil we went through. I believe that there is some truth in his statement, but why does the Council of ministers not take steps to prevent hard consequences", asked Mehmedovic.
Anti terrorism expert, Dzevad Galijasevic, said for IBNA that it is very important to examine the addresses of persons who have a terrorist past.
"It is confirmed that one of the most important terrorists, Abu Mali, was enlisted in Sarajevo on the address of the Embassy of Spain, and under a false name. With this address he was granded BiH personal documents. So, what Novic is saying is very important in the fight against terrorism in BiH", Galijasevic emphasised.