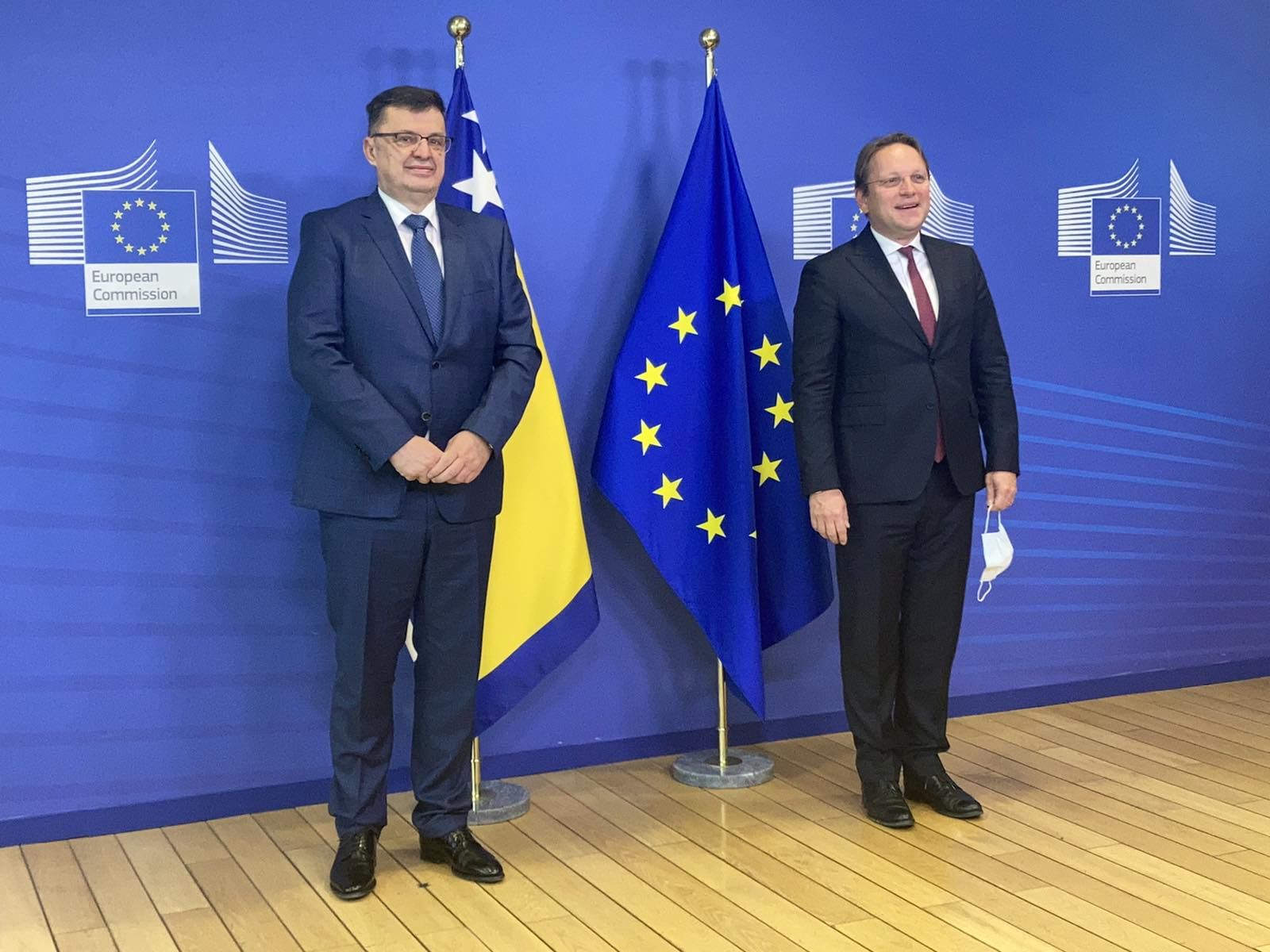 Chairman of the Council of Ministers of BIH Zoran Tegeltija talked in Brussels with Commissioner for Enlargement and EU Neighbourhood Oliver Varhelyi on the current Covid-19-related situation in BIH and the region, as well as on the European integrations process.
"On this occasion, Tegeltija briefed Varhelyi on the epidemiologic situation in the country and stressed the importance of the accelerated vaccination of the population to contain the spread of pandemics and start the socio-economic recovery as soon as possible, pointing at a need for better dynamics and more even delivery of vaccines," reads Council of Ministers press release.
The meeting discussed the European integrations process, and Tegeltija stressed that the European road has no alternative, adding that he highly appreciates the personal engagement and efforts of Commissioner Varhelyi in supporting BIH to achieve relevant progress. He emphasised that awarding the candidate status for EU membership would be an incentive and a good message for BIH citizens that the EU has serious intentions as to the continuation of the accession process.
They jointly assessed that all-level authorities in BIH, with compliance with the agreed-to coordination mechanism, should invest additional efforts for faster and more effective implementation of reform processes, to speed up the European road of BIH. They exchanged opinions on other topics, such as the migration issues and improvement of regional cooperation.
During his stay in Brussels, Tegeltija also met Permanent Rapporteur of the European Parliament for BIH and EPP Vice-President Paolo Rangel.
At the meeting, which discussed the European future of BIH, Chairman Tegeltija briefed EU Rapporteur for BIH Rangel of the activities the Council of Ministers takes for a faster and more effective realisation of reform processes, as the main precondition for the continuation of the European road.
Chairman Tegeltija pointed out that despite the coronavirus pandemics-caused crisis, BIH has shown its dedication to the European integrations and it made a progress in the fulfilment of 14 key priorities, suggesting a need for increased EU support in getting the candidate status.
Chairman Tegletija thanked Rapporteur Rangel for his engagement to recognise efforts and show the progress of BIH, made in the face of difficulties caused by Covid-19 pandemics.