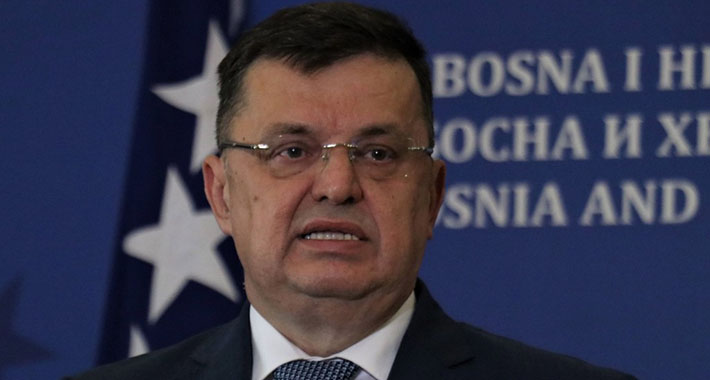 Chairman of the BiH Council of Ministers Zoran Tegeltija spoke today via videoconference with European Enlargement Commissioner Olivér Várhelyi regarding the current situation in BiH caused by the COVID-19 pandemic, as well as regarding the economic and political state of affairs in the country and the region, in the light of the European integration, as SRNA agency reports.
"Chairman Tegeltija expressed his gratitude for the support the European Union has provided to BiH in the fight against the coronavirus pandemic, and stressed the importance of the continuous EU engagement in strengthening political and economic ties in the Western Balkans", a press release from the Council of Ministers notes.
The chairman of the Council of Ministers pointed out the importance of regional and multilateral cooperation, as well as the need for greater solidarity and joint actions in the fight against the pandemic, stressing that no country is safe or protected from the pandemic, the loss of human lives and the devastating economic consequences.
"The two collocutors highlighted the necessity of wrapping up negotiations on macro-financial support from the European Commission as soon as possible", the press release states.
The European Commissioner for Enlargement expressed the readiness of the EU to additionally support the BiH health sector in order to address the extraordinary needs, and briefed the chairman of the Council of Ministers on the Economic and Investment Plan for the Western Balkans, which he will present to the European Commission in the fall, in the framework of providing the region with long-term support and closing the gap with the EU.
"The Plan should accelerate the growth and create new jobs in the region, which is part of the efforts for recovery from the pandemic, and it will focus on infrastructure projects in various fields of importance for citizens, such as energy, transport, environmental protection, and the like", the press release adds.
Regarding BiH's European path, Chairman Tegeltija said that, despite the challenges caused by the Covid-19 pandemic, the Council of Ministers is focused on the prospects of clinching a candidate status and kicking off accession negotiations with the EU.
The chairman of the Council of Ministers pointed out the Council of Ministers' active approach to resolving European issues, stressing that the key to the European integration process laid in the respect for the coordination mechanism, which is based on constitutional competences of all authority levels with full respect of the Dayton Accords. /ibna