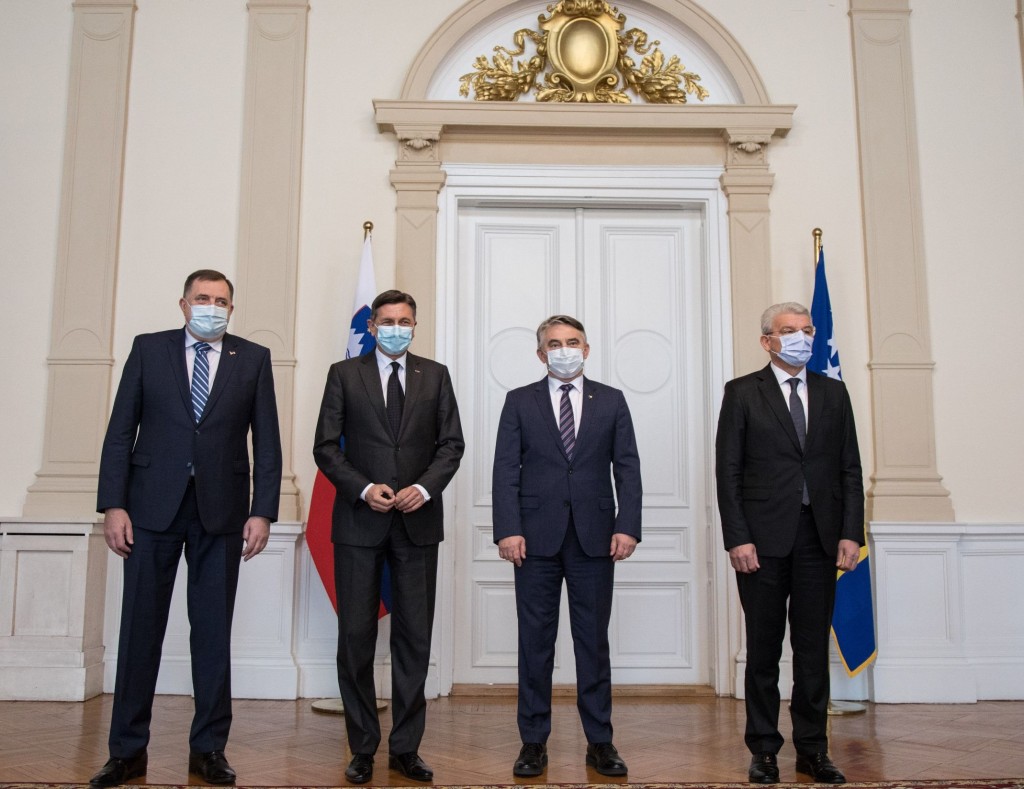 Slovenian Ambassador Zorica Bukinac was summoned today at the Presidency of Bosnia and Herzegovina at the invitation of member Željko Komšić, following information that Slovenian Prime Minister Janez Janša sent a "non-paper" document to Brussels dictating the future of BiH.
Media reports in Bosnia and Herzegovina recall that Slovenia will be taking over the presidency of the European Union on July 1 this year, with Janša allegedly planning to impose a certain vision of "completing the disintegration of Yugoslavia" on the agenda. At least this is what the non-paper sent to Brussels appears to be proposing, which implies changes at the borders including the secession of the RS entities, as well as the re-demarcation of borders in Montenegro, North Macedonia and Albania.
The information on the content of Janša's non-paper was first published by Politicki.ba, forcing Komšić to summon the Slovenian ambassador today.
This is expected to be the sole topic of the talks. Ambassador Bukinec is expected to make a formal statement on this unofficial document.
Komšić also confirmed that Slovenian President Borut Pahor asked the BiH Presidency members during his recent visit to Sarajevo if a "peaceful dissolution" of Bosnia and Herzegovina was possible.
Speaking to FENA news agency, Komšić said that Pahor told the Presidency members that talks about the need to complete the fall of Yugoslavia were becoming more and more often in Europe, and he asked: "Can you achieve a peaceful dissolution in Bosnia and Herzegovina?".
Komšić, as a Croat member of the BiH Presidency, together with Bosniak member Šefik Džaferović answered that there is no such possibility. Meanwhile, Serb member Milorad Dodik gave a different answer.
According to Komsic, this was one of the reasons why he recently sent a non-paper on the situation in Bosnia and Herzegovina to Brussels.
Janša denied these claims.
"Last time I met with the President of the European Council (Chales Michel) was last year. It would be difficult for me to physically hand over anything to him in February or March this year, as the obscure portal claims," stated Janša. /ibna
Eh, @eucopresident sem nazadnje srečal lani. Težko bi mu tako februarja ali marca letos karkoli fizično predal, kot piše obskurni splet, ki ga navajate. 🇸🇮 sicer resno išče rešitve za razvoj regije in EU perspektivo držav ZB, s takimi zapisi pa se ravno ta cilj skuša onemogočiti. https://t.co/aObQNCkRc5

— Janez Janša (@JJansaSDS) April 12, 2021