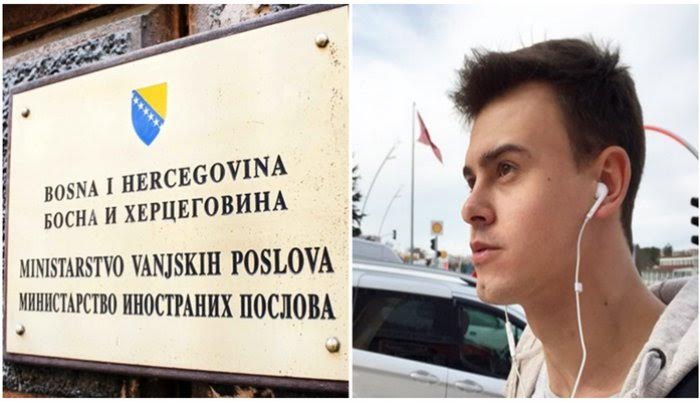 Bosniak opposition politicians demand that BiH Presidency Chairman and Party of Democratic Action (SDA) leader, Bakir Izetbegović, uses his political ties with Turkey's president, Recep Tayyip Erdogan, so that Selmir Mašetović, a student from Bosnia i Herzegovina who was arrested in Turkey, a few days ago, is freed.
The news hit the local headlines after the father of the young man saw his son's surname on a list of a 60 suspected FETO members who are being detained in Turkey, among others. The organisation and its leader, imam Fethullah Gülen (now living in the States) are considered terrorists with Turkish authorities claiming they are behind the July 2016 attempted coup in Turkey.
In the meantime, the BiH Ministry of Foreign Affairs has received official confirmation about this case. The Turkish Prosecutor's Office informed the competent BiH Ministry that the process against Mašetović is in progress.
"The General Consulate of BiH in Istanbul is in touch with the family of the arrested person and the lawyer representing our student on official duty. The General Consulate proposed a list of bilingual lawyers to the family of the suspect. Meanwhile we are awaiting for the relevant permission so that the parents can see their son in the Turkish prison", stated the BiH Ministry of Foreign Affairs.
Turkish media write that due to a FETO language-learning programme, foreign students have travelled to Turkey for six months, in order to be educated there and once the programme is over they can return to their home countries. They communicated with encrypted messages through the ByLock application that they had to install upon arrival. In return, according to Turkish media, the organisation would ask for "certain favours" after young people go back home.
"My son Selmir is not a "gulenist"…. I brought him up during the war, when Gradačac was in flames. He was born in a wartime hospital in Međiđa Donja at the time when I was defending Gradačac", Hussein, an Army of the RBiH veteran who spent four years as a fighter, said.
In 1996, Hussein was educated and trained in Turkey, where his son was arrested. He adds that Selmir, after finishing elementary school in Gradačac, enrolled and finished Medresa in Tuzla. After that, he enrolled in a pedagogical and psychology programme in Turkey and received a scholarship from the Foundation "The source of hope" for two years. Then he was fully supported by his parents who gave everything to provide him a normal life and good studying conditions in Turkey.
"At the time of the coup in Turkey, my son was at home in Bosnia and Herzegovina and had nothing to do with the events there", Hussein said to the media.
He is convinced that Bakir Izetbegović, as a statesman and a leader of the political party can free his son with one phone call to Erdogan, who recently held a pre-election rally in Sarajevo. Hussein added that Selmir have nothing but a few exams before finishing his degree and repeated that his son was not politically engaged.
The leader of the Party for Better Future BiH, Fahrudin Radončić, the leadership of Naša Stranka (Our Party) and several other political leaders demand Selmir's freedom. For Izetbegović's party, this can be a big problem since the BiH elections are in four months…. / IBNA