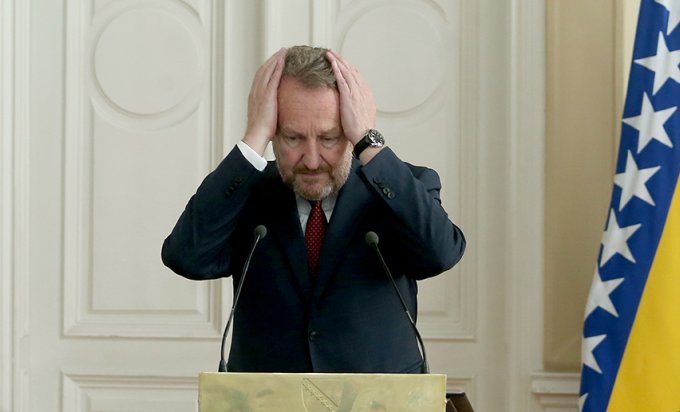 Bakir Izetbegović, Member of the Collegium of the House of Peoples of the BiH Parliamentary Assembly and President of the Party of Democratic Action (SDA), talked to the reporters in Sarajevo today regarding the allocation of the IMF funds, noting that the process should follow the Constitution and Law.
As he said, it was clear that the BiH Council of Ministers could not instruct the Federation of BiH on how it would allocate the funds, FENA Agency reports.
"This matter is decided by the FBiH Parliament and all that is needed is for the funds to be simply transferred to the entities, which will then provide their share to the Brčko District, while the Federation will allocate the funds as already decided. Therefore, it is not clear to me where this idea came from, unless it is an intention to put the cantons in a particularly prominent place, to position them as a new entity in relation to the Council of Ministers of BiH", Izetbegović stated.
At the meeting of political party leaders Bakir Izetbegović, Dragan Čović and Milorad Dodik of the Party of Democratic Action (SDA), the Croat Democratic Union (HDZ) of BiH, and the Alliance of Independent Social Democrats (SNSD) respectively with representatives of the European Union Delegation to BiH and the US Ambassador held on 11 April, an agreement had been reached on the allocation of funds from the International Monetary Fund (IMF) loan.
As it was stated back then, the loan amounting to 330 million euros would be divided into percentages – 62 percent for the Federation of Bosnia and Herzegovina, 38 percent for the entity of Republika Srpska, and half a percent from each of the entities would be directed to the Brčko District.
Governor of the Central Bank of BiH Senad Softić told FENA on 7 May that the Central Bank of Bosnia and Herzegovina (CBBH), as the fiscal agent of Bosnia and Herzegovina, was still waiting for instructions from the BiH Ministry of Finance and Treasury based on the decision of the BiH Council of Ministers to determine the allocation of funds from the International Monetary Fund (IMF). /ibna