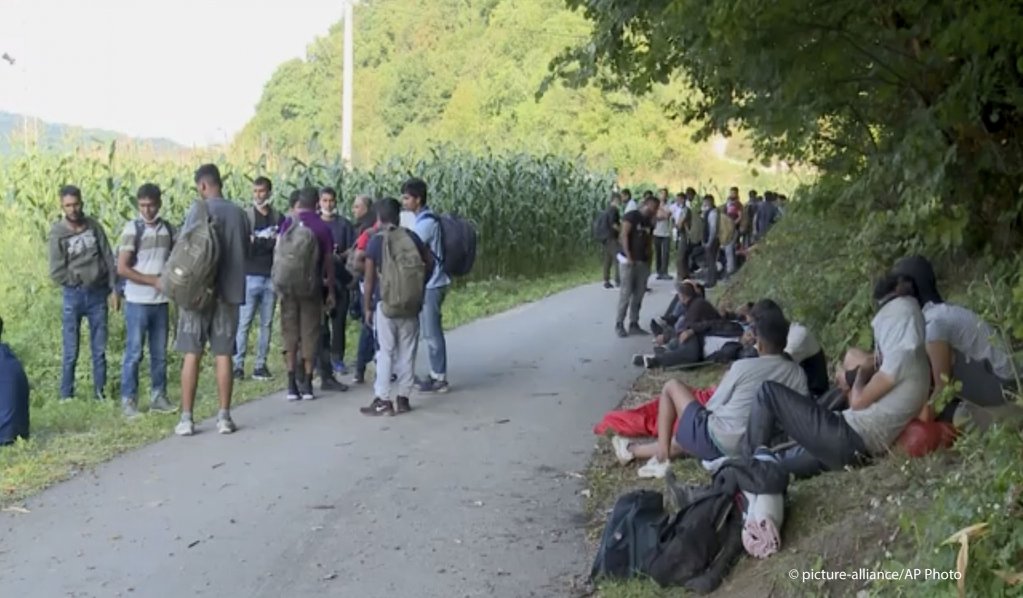 Authorities in northeastern Bosnia and Herzegovina have deployed police officers along the main transit highway to prevent migrants from entering the territory. The migrants are finding themselves trapped as neighbouring regions are blocking them from walking back as well.
As infomigrants.net reports, local authorities in Krajina (Una Sana Canton in Federation BiH) in the northwestern part of BiH have begun enforcing their decision to ban all new migrant arrivals, and have set up roadblocks to prevent migrants who are headed to western Europe from entering their territory. Krajina authorities allege that they are bearing the brunt of ongoing migration and that other parts of the country are failing to step in and help out.
The deployment of the Police and the order to return every migrant they encounter constitutes an apparent violation of BiH human rights and immigration laws, AP reports.
The roadblocks are set up on the main highway connecting Krajina to the rest of the country. Police in neighbouring administrative regions of BiH, in turn, started blocking migrants from walking back, AP reports.
Ali Razah, a Pakistani migrant, is one of the hundreds trapped in the middle. He told AP that various police units had blocked him and other migrants from moving in any direction. "There is no food, no water, nothing and we are staying on the grass", he said.
The Krajina region, on the border with Croatia, is a major transit point for migrants and refugees who aim to reach the European Union. The two towns of Bihac and Velika Kladusa with their refugee and migrant camps are located in the region's northwestern corner, and have become a bottleneck for migrants – as Croatian authorities have sealed the border to the EU-member state and are reported to conduct pushbacks across the border using violence against migrants.
"BiH cannot tackle the migrant crisis unless its leaders reach a consensus on stopping them at the border with Serbia", the head of BiH Service for Foreigner's Affairs told N1 on Tuesday.
"Migrants move through these (regional) countries swiftly and Bosnia and Herzegovina is, unfortunately, on the border with Croatia and they cannot go  any further", Slobodan Ujić explained, adding that the migrants were becoming aggressive because they were not able to continue their path.
"There is a lot of disturbance of public order and peace, they commit crimes. A lot of them consume alcohol and drugs, that is why they are more aggressive",
"We see how many of them enter through that border on a daily basis. We must be aware that, until we shut down that border, we will face problems with illegal migrants here, and the biggest problem will be in the Una-Sana Canton, the Sarajevo Canton and the Tuzla Canton", he stressed.
Ujić said that the Service for Foreigners' Affairs does everything it is supposed to and that it collects data and tries to confirm their identity to send the migrants back to the countries they entered BiH from, through the readmission programme.
However, he stressed that there were many obstacles along the way.
"Those migrants arrive in Sarajevo, at temporary reception centres, without any police agencies stopping them on that path", he said.
"Since the beginning of the year, we have mostly had migrants from Afghanistan, Pakistan, Bangladesh, Morocco etc. We have a problem with these countries in that we cannot get access to their database, they don't exist. This readmission programme has had absolutely no effect so far", he explained.
According to media reports, a group of migrants shortly blocked the traffic on the road between Republika Srpska and Una Sana Canton, where they spend hours waiting for authorities to solve the issue. After a short time, the police re-opened the road. /ibna