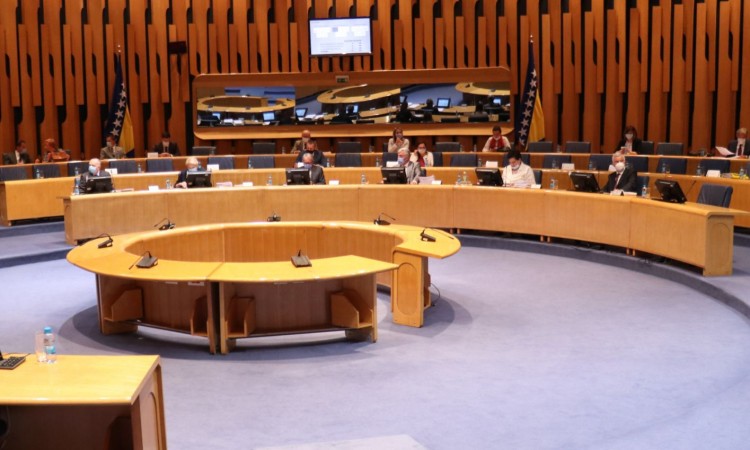 At an emergency session today, the House of Peoples of the BiH Parliamentary Assembly supported the principles of the Law on the Budget of the BiH Institutions and International Obligations for 2020, submitted by the House of Representatives of the state parliament.
Of the 14 delegates present, 13 voted in favour of the proposed bill, no one was against, and one delegate abstained.
Nine delegates from the Federation of BiH supported the proposed bill, while four delegates from the RS voted in favour and one abstained.
The Law on the budget was previously adopted in the House of Representatives, but MPs in the House of Peoples adopted a different text of the Law. That means that the document must be harmonized, and the parliamentary houses will need to set up a special Committee for this occasion. After the harmonization process, the budget will be considered as adopted.
The budget will allow the November local elections to take place, which is why international officials have repeatedly urged BiH political leaders to adopt it. The 2020 local elections have already been pushed back from October 4 to November, 15 due to the absence of a state budget.
14 out of the 15 representatives were present at the House of Peoples' vote on Tuesday. HDZ BiH leader Dragan Čović did not attend the procedure, after having recently tested positive for coronavirus.
The fact that more than half a year passed before the MPs adopted the budget goes to show that the stakeholders over this issue are looking to solve other issues, which do not necessarily align with the citizens' needs. The budget proposal was initially rejected by the House of Representatives on July 9 after representatives of the Alliance of Independent Social Democrats (SNSD) and Croatian Democratic Union (HDZ BiH) voted against it. SNSD representatives explained that they voted against the budget "because previous agreements regarding the budget and other issues have not been respected".
Total revenues, receipts and financing of BiH institutions in 2020 amount to 996 million BAM, which is the same as total expenditure. The 2020 budget exceeds last year's by 30 million BAM, or by 3%. External debt servicing amounts to 807,552,931 BAM, lower by 18.2 million BAM compared to the previous year (1EUR=1,95BAM). /ibna