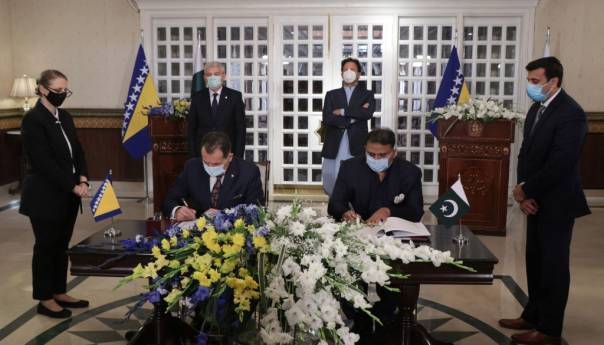 A long-awaited readmission agreement between Bosnia and Herzegovina and Pakistan was signed on Wednesday in Islamabad by BiH Security Minister Selmo Cikotić and Pakistani Interior Minister Ijaz Ahmed Shah.
The agreement was proposed months ago in an effort to ease the pressure from the Pakistani illegal immigrants trying to reach EU countries through BiH, through the so-called Balkan route.
By concluding this agreement, BiH and Pakistan confirm their readiness to engage in international actions to prevent illegal migration, as the Agreement regulates the issues of admission of own citizens, third-country nationals and stateless persons residing in the territory of a contracting party contrary to their laws.
This constitutes an important agreement for BiH which, in recent years, has been at the epicentre of illegal migration across the "Balkan route", in the chain of countries through which the process of smuggling persons, drugs, vehicles and other forms of organized crime takes place.
According to the established draft protocol, the competent authorities for receiving, submitting and processing readmission requests, as well as those for transit, are the Ministry of Security for Bosnia and Herzegovina and the Ministry of Interior of the Islamic Republic of Pakistan.
Readmission and reception of citizens of the two countries and the transit of foreign nationals will take place through the international airports in Sarajevo and Islamabad.
Cikotić accompanied Bosnia and Herzegovina Presidency Chairman Šefik Džaferović in the state delegation on a two-day visit to the Islamic Republic of Pakistan. At the beginning of the visit, Džaferović met Pakistani Foreign Minister Makhdoom Shah Mahmood Qureshi.
According to a FENA reporter from Islamabad, the two delegations discussed the bilateral relations between the two friendly countries. It was agreed that the relations between Pakistan and BiH could be significantly improved. The interlocutors concluded that there was not enough communication, but that cooperation could be improved primarily at the economic level.
Džaferović thanked Qureshi for the assistance Pakistan has provided to BiH during the war, by sending, in the most difficult of times, troops to BiH to operate within UNPROFOR and then within SFOR, thus contributing to stabilizing the situation and establishing peace.
After the meeting with the Minister, the Prime Minister of Pakistan Imran Kahn hosted a solemn welcome with the highest state honours, followed by a tete-a-tete meeting between Džaferović and Kahn, as well as a meeting of delegations of the two countries.
During his two-day visit to Islamabad, Džaferović will also meet with the President of the Islamic Republic of Pakistan Arif Alvi, as well as with Parliament Speaker Assad Qaiser. /ibna