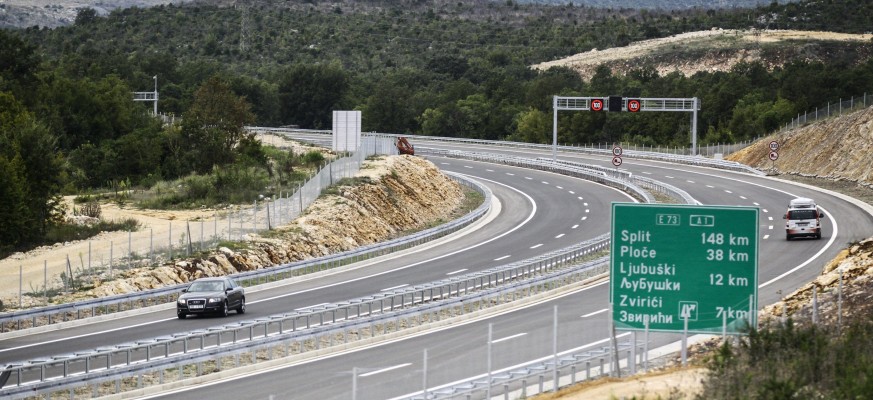 A 77,903,313-euro contract for the construction of the Tarčin – Konjic motorway section, subsection of the Tarčin – Ivan, LOT 1, Tarčin – entrance to the Ivan Tunnel, was signed today in Mostar.
The length of the section is 4.9 kilometers, and the funds for the construction were provided through the European Investment Bank (EIB) and WBIF grants (EU funds), in the amount of 11.7 million euros.
The estimated construction period is 20 months, with the construction works to kick off tomorrow.
Investor Adnan Terzić, Director of FBiH Motorways, Hamed Ramić, Managing Director of Euro-Asfalt on behalf of the Euro-Asfalt Sarajevo and Granit AD Skopje consortium of contractors, as well as FBiH Minister of Transport and Communications Denis Lasić, as a witness on behalf of the FBiH Motorways, and Almedin Husomanović, as witnesses on behalf of the consortium of contractors, signed the contract.
In a statement to the media, FBiH Motorways Director Adnan Terzić pointed out that this was the eighth contract signed after the adoption of the new Law on Excise Tax and after the amendments to the spatial plan with special features for corridor V-c were confirmed.
When asked by reporters when will Mostar be connected by highway, Terzić replied that the deadline for the construction of the southern part of the road, after selecting a contractor for the Kvanj Tunnel, is three years, while six years is the deadline for completing the Prenj Tunnel and other sections north of Mostar.
Euro-Asfalt Director Hamed Ramić pointed out that two large and demanding facilities will be built on the Tarčin sub-section – entrance to the Ivan tunnel; the Raštelica viaduct 1 and the Raštelica 2 viaduct, 518 meters and 620 meters long respectively, while a rest area and local infrastructure will follow.
FBiH Minister of Transport and Communications Denis Lasić emphasized that the contract signed today will not be the last, as he went on to announce the signing of new contracts for the end of this year and the beginning of the new year, which will cover all sections of Corridor V-C and sections related to the corridor. /ibna