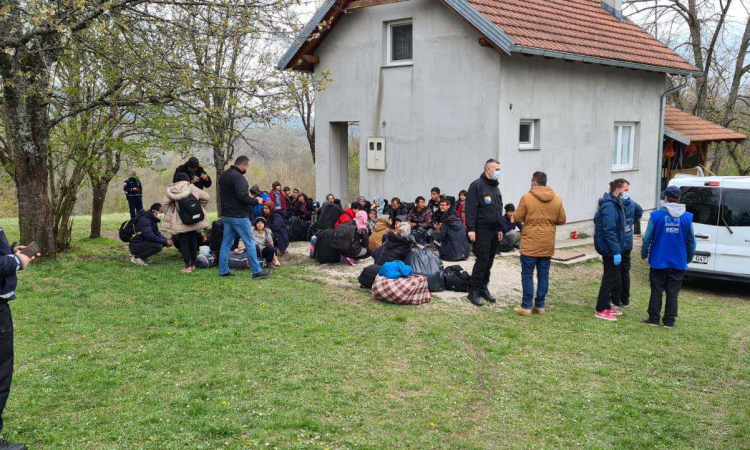 The BiH Foreigners' Affairs Service (SFA) relocated nine migrant families from the abandoned buildings in the area of Una-Sana Canton to the local migrant camps of Sedra and Borići, the Service announced on Monday, adding that these measures were conducted within their activities of monitoring the movement of migrants residing in the country.
"It was determined that nine families making up a total of 43 people including 19 children, were staying in abandoned buildings that do not meet even the minimum living conditions at the Bosanska Bojna site, in the immediate vicinity of the border with the Republic of Croatia. The service immediately initiated and coordinated a series of activities on their relocation from the said location, placing them in the temporary reception centres 'Sedra' in Cazin and 'Borici' in Bihac, which are also intended for accommodation of families and vulnerable categories of migrants," said the deputy director of the Service for Foreigners' Affairs of BiH Mirsad Buzar.
All relocation activities were carried out in cooperation with the BiH Border Police and the International Organization for Migration (IOM), while the families immediately underwent medical triage and were placed in the isolation units of these centres, in accordance with the COVID-19 safety protocol.
Recently, IOM Bosnia and Herzegovina (BiH), together with the Service for Foreigners' Affairs (SFA), conducted the pilot data collection to gather information on the number of migrants and asylum seekers present in the country. The purpose of the project was to provide an estimation of the migrant population that has not been accommodated or registered in any official Temporary Reception Centres (TRCs) at a given point in time. Ten teams were established comprising 36 census takers, out of which 17 were males and 19 females. The data collection was implemented in 4 Cantons, for a total of 76 locations: 46 locations in 8 municipalities in the Una-Sana Canton, 17 locations in 6 municipalities in the Sarajevo Canton, 5 locations in one municipality in the Herzegovina – Neretva Canton, and 16 locations in 12 municipalities in the Tuzla Canton.
"The total number of migrants identified in the locations covered was 1,927 out of which 1,754 stated that they were not accommodated in any of the official TRCs in BiH. Afghanistan (42%) and Pakistan (29%) are the two nationalities with the highest number of persons outside of TRCs in BiH. Overall, these two national groups make up 71 per cent of total migrants without accommodation in TRCs. Other nationalities include Morocco, Algeria, Islamic Republic of Iran, Iraq, Papua New Guinea, Syrian Arab Republic, Palestinian Territories, Somalia and Sudan," says the IOM. /ibna