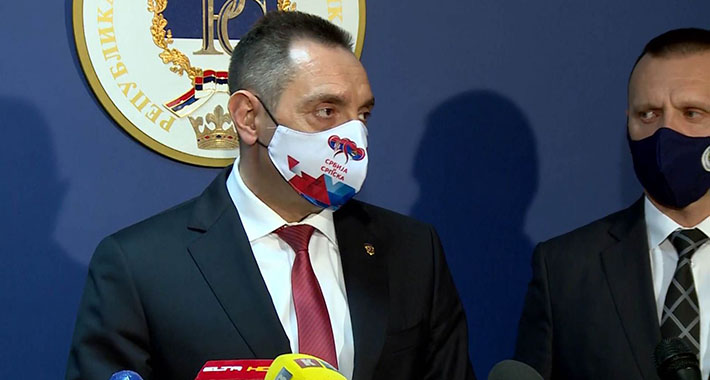 The Ministers of Interior of Republika Srpska and Serbia, Dragan Lukač and Aleksandar Vulin respectively, agreed today in Banja Luka that the danger of terrorism is always there, deeming it necessary for security agencies to remain alert at all time and cooperate on a global level to control potential terrorists.
Lukač stressed there are still people in BiH, but also in Europe, who have had contact with or were members of certain terrorist groups. Therefore, one can never be sure when they will either be tasked or decide on their own to commit a terrorist act.
"We know that a large number of people who were members of terrorist organisations and fought for their interests returned to BiH […] There are still para-jamaats (parallel Islamic congregations) in BiH that were recruiting people who were sent to foreign battlefields. Those para-jamaats must be placed under control as we cannot expect anything good from those people if they keep working on the development of an ideology close to terrorist organisations," Lukač said after the meeting.
He added no such para-jamaat groups existed in Republika Srpska, only certain individuals under police custody.
Vulin stated that the returnees from the Syrian battlefield who were Islamic State members and are mainly concentrated on Kosovo and Metohija, pose the biggest security threat of terrorism.
"If one takes a closer look at the percentage of the population of an area and compare it with the number of people who served the Islamic State and who originate from that particular area, there are more people from Kosovo and Metohija in it than Iraqis or Libyans," said Vulin.
He pointed out the Serbia's Interior Ministry is doing its best to find out who these people are, where they are from and where they are located, but it cannot fully guarantee security, considering that Serbia does not have an efficient government in Kosovo.
"However, international security forces are aware of that," Vulin emphasized.
He added the Ministry of the Interior of Serbia cooperates with everyone who needs to combat terrorism and crime. /ibna
Source: SRNA