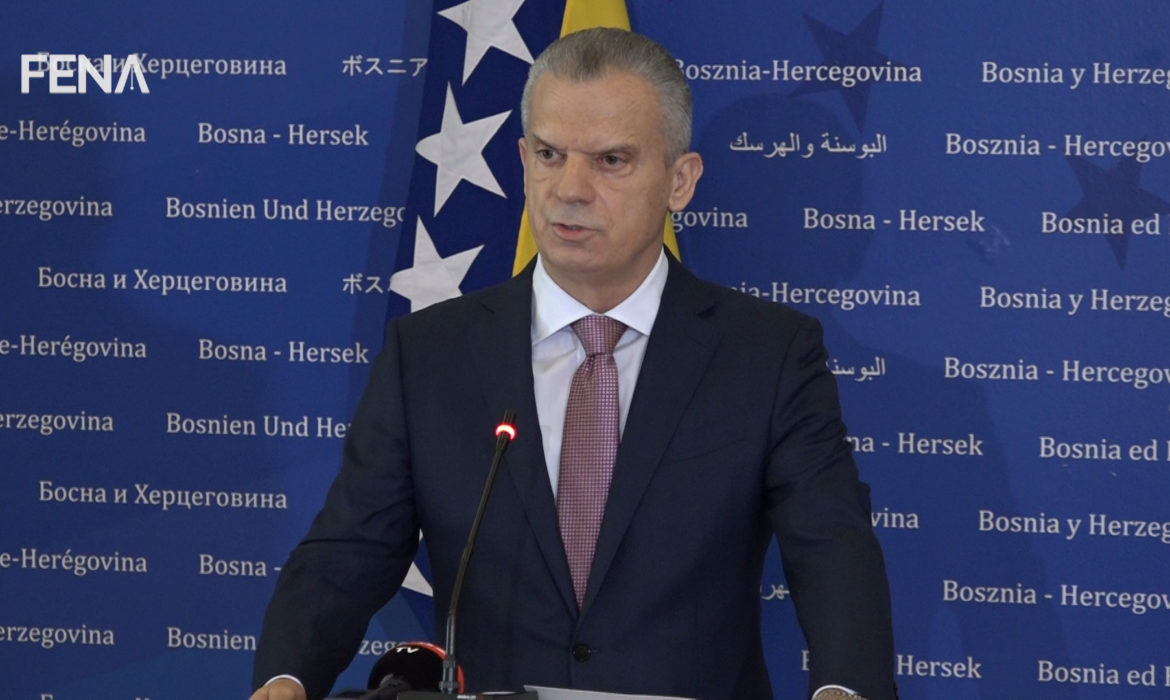 Minister of Security of Bosnia and Herzegovina Fahrudin Radončić confirmed at a press conference in Sarajevo today that he will resign from the position of Minister of Security in the Council of Ministers of BiH.
He said it was a matter of principle, and that "there are no tensions, anxiety and controversy".
"First of all, I would like to thank the Party of Democratic Action for enabling both me and SBB to be in that parliamentary majority and in the BiH Council of Ministers", Minister Radončić said.
However, he added, which is completely politically legitimate, there have been political differences over some strategic issues within BiH.
"I asked to solve the migrant crisis by legal deportations and that I mentioned here that we have a problem with Pakistan and its Embassy in Sarajevo, which does not want to help us legitimize more than nine and a half thousand illegal migrants who pose a huge security risk. When the Chairman of the Presidency of BiH, Šefik Džaferović, and even the Minister of Foreign Affairs, Bisera Turković, received said ambassador, they distanced themselves from me as the Minister of Security and my plan", Radončić said.
He added that in any normal country, every security minister would then resign because the chairman, i.e. the head of state, "stands on the side of an ambassador, without even hearing the arguments of the BiH Ministry of Security".
He said that he should have resigned from the BiH Council of Ministers there and then.
He explained that he did not step down at the time because he was waiting for two things – the pandemic to end and for the BiH Ministry of Security to get its deputy, in order to avoid discontinuity.
"Another reason for my resignation is a strategic disagreement regarding the 'respirators' affair. I was politically sacrificed, I had a political trial, I strongly hold that everyone is innocent until proven guilty in court. But I think that a brutal theft of 10.5 million KM should be resolved in court. I am not claiming that Mr. Novalić is guilty, but in principle, as the Minister of Security, I cannot accept someone threatening the entire BiH judiciary", Radončić stressed.
He stated that the third thing, which is also very important, is that "relations in the ruling coalition are not such that I estimate that there will be an improvement of relations and that the BiH Council of Ministers will be able to give the results that citizens expect".
"Citizens expect results, and the Council of Ministers is a hostage of the SDA-HDZ-SNSD relations. Today there will be a meeting of the BiH Council of Ministers. As soon as it is over, I will resign irrevocably and from that moment I will no longer be a minister", Radončić explained.
Answering a journalist's question, he said that this is not a pre-election move.
"This is a move that is normal in all European countries and the world. If you have a strategic difference with your coalition collaborate, it is completely acceptable to go out and say, I do not agree with that. I do not see any reason why a Bosniak from the SDA should not be appointed on the position of a minister at the first session of the House of Representatives of the Parliamentary Assembly of Bosnia and Herzegovina", Radončić said./ibna