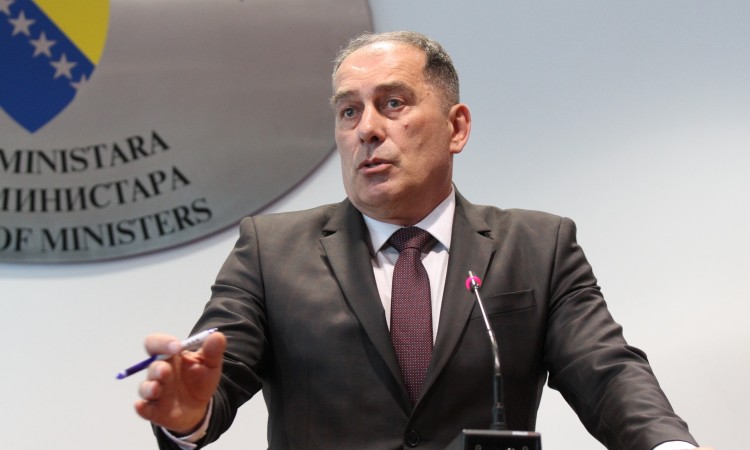 The European Union is faced with the possibility of a return of between 2,000 to 2,500 radicalized people who have fought with the terrorists on the battlefields in Syria and Iraq, and this includes all 28 EU member states. Therefore, it is not true that there are thousands of them returning just to Bosnia and Herzegovina, said Security Minister of Bosnia and Herzegovina Dragan Mektić (photo) in an interview published on Sunday, reports Večernji List on December 26, 2016.
Mektić again commented on recent statements made by Croatian President Kolinda Grabar-Kitarović, who discussed the extent of the terrorist threat in Bosnia and Herzegovina. He said that her statements were "tactless" and "unfounded".
He explained that the reports about 2,500 potential terrorists who are a threat to the EU were presented at a recent meeting of the heads of security services held in Slovenia, which proves that the allegations made by the Croatian President are untrue. "I think it is a statement which is not at all based on facts", said Mektić, adding that it was possible that someone deliberately misinformed Croatian President when she said that there could be thousands of radicalized people who could return to Bosnia and Herzegovina.
Mektić asked how could someone even think that it was possible that thousands of potential terrorists would ever be allowed to enter Bosnia. "I think that someone maliciously gave her that information in order to discredit her", said the Bosnian Minister of Security. He added that, in any case, it was not the task of a president of any country to speak publicly about intelligence and information information related to terrorism, but that it was a job of security services which should assess whether the information is reliable and accordingly decide what to do.
Mektić again said that 46 persons have returned to Bosnia and Herzegovina from Syrian and Iraqi battlefields, of which 20 persons have already been prosecuted, while all others are subject to criminal investigation.
For the remaining 115 Bosnian nationals who are, according to police and intelligence agencies, still in the Middle East, Mektić said they would most likely never return to Bosnia and Herzegovina. The reason is the fact that the police have information about what they did there and what crimes they committed, and therefore they can expect to be held accountable before judicial institutions./IBNA
Source: total-croatia-news.com