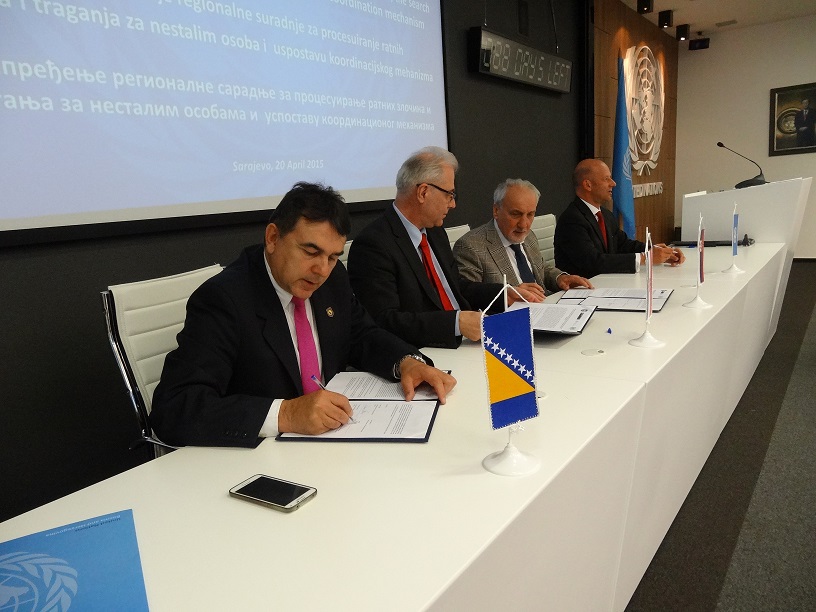 Banja Luka, April 20, 2015/ Independent Balkan News Agency
By Mladen Dragojlovic
Under the auspices of the UN, BiH Chief Prosecutor Goran Salihovic, Croatian General Attorney Dinko Cvitan, Republic of Serbia war crimes prosecutor Vladimir Vukcevic and the Resident Coordinator of the United Nations Yuri Afanasiev signed on Monday the guidelines to improve cooperation in the prosecution of war crimes and the search for missing persons.
These guidelines will enable better work on cases of war crimes, especially those which must be treated on regional level, in the cases where accused persons, witnesses or victims are in the area of one or more states. Furthermore, the guidelines will enable the implementation of existing protocols, improve cooperation and enable analysis of these cases, in order to determine if there are enough evidence for prosecution. It is expected that these guidelines will decrease number of war crimes cases in the region in the future.
Also, participants of the meeting in Sarajevo expressed their commitment to continuing action on the identification of bodies found and the search for persons which are still missing since the war. It is estimated that countries in the region are still searching for 12,000 missing persons, and the better flow of information will help in their search, the search for the locations of mass graves and help in the identification of these persons.
At same day, families marked a Day of missed Serbs from Sarajevo-Romanija region. A memorial service was held in the Church of Holy Great Martyr George in Miljevici and flowers were laid at the memorial ossuary in Istocno Sarajevo, just a few kilometers from the place where the prosecutors from the region signed the guidelines.
Twenty-three years have passed since the first Sarajevo Serbs went missing and we mark those tragic events as a memory of the first mass disappearance of the so-called 'group of eight.' They went missing one day and the earthly remains of six of them have never been found, said on the ceremony, Mirko Vranic, the head of the Regional Coordination of the Association of Families of Detained and Fallen Veterans and Missing Civilians of Istocno Sarajevo.
He said that the process of searching for and identifying the missing was satisfactory until 2008, with more than 320 Serbs being identified per year. But since the Missing Persons Institute of Bosnia and Herzegovina was formed, said Vranic, only 58 Serbs were identified, who were exhumed by the former Commission for Tracing the Missing of Republika Srpska.
"This is a repeated crime against the missing Serbs or how else do we explain the fact that the Institute covers up an identified person for a year and refuses to tell the family so they can bury them with dignity, because the Institute is waiting for those families to biologically disappear. We appeal to all institutions in RS to return the search process to the competence of the entities, as it was before the establishment of the BiH Missing Persons Institute", Vranic said.