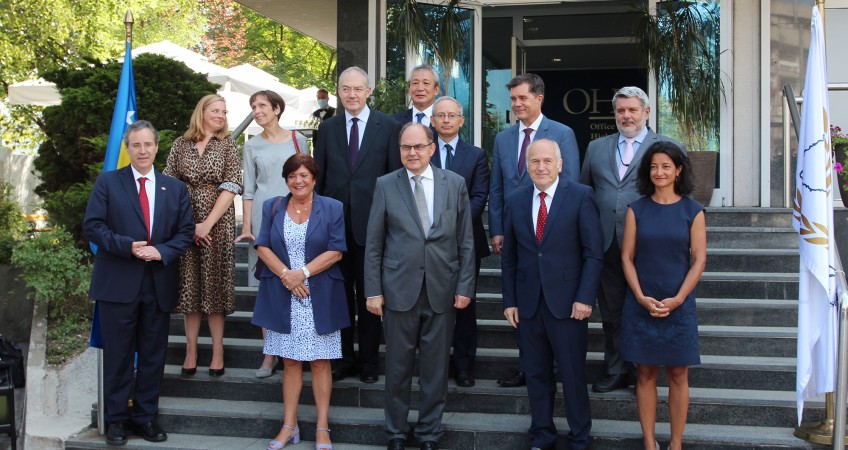 German diplomat Christian Schmidt officially took over the duty of the International community High Representative in Bosnia and Herzegovina Monday, succeeding Valentin Inzko, who held this position for 12 years. The handover ceremony took place in the Office of the High Representative (OHR) building.
Schmidt was elected the new High Representative on May 27 this year, with the opposition from Russia. His election provoked violent reactions, and a session of the UN Security Council was held with the aim of preventing his election and closing down the OHR. This decision, initiated by Russia and China, was rejected.
But, the tensions caused by his appointment still are present in the state as Serb member of the BiH Presidency, Milorad Dodik, said that representatives of Republika Srpska will not recognize Schmidt as the new Head of OHR. Dodik announced that he will not cooperate with Schmidt and that he will not attend the meeting with the new High Representative, scheduled for Tuesday.
In his speech, outgoing High Representative Valentin Inzko said he was honoured to serve as BiH's High Representative.
"Today, I am handing over this mandate to my successor and friend Christian Schmidt. We have worked closely together these months regarding preparations for today. I was impressed by his detailed knowledge of this country. I am convinced that he will do a good job," said Inzko.
"I come as a friend of the people of Bosnia and Herzegovina. It is my pleasure to serve your country and people in the years to come. I take the office firmly in my intention to help the people of this country. This work should be done with deep respect for those who lost their lives in the war and those who are working on the European future of BiH," Schmidt said.
He stressed that he did not want to promise anything impossible, but said he would use all his strength and influence as insurance that this country and its citizens have a better future.
"BiH must return to the political agenda of the international community and the EU. I will contribute to that, I am very optimistic that the international community, Europeans and Americans, will work together to achieve that goal," Schmidt said, adding that he would try to make BiH's voice heard in all European and world capitals.
"The goal must be to strengthen BiH and support its efforts to become part of the EU, but it is not a one-way street. Whoever wants to join the EU must abide by and guarantee the rules of that alliance. It is not an easy daily task. Progress is only possible through a reflective approach to one's own past," Schmidt noted.