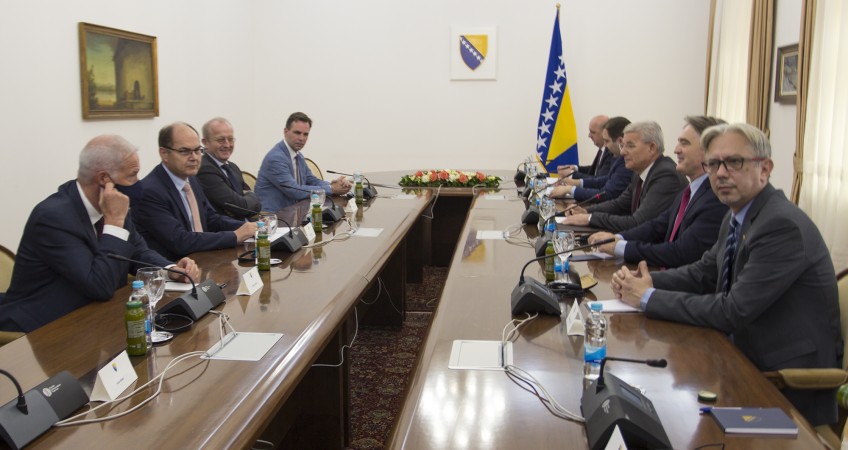 High Representative Christian Schmidt paid a courtesy visit to the BiH Presidency opening a series of meetings with domestic institutions and political stakeholders.
"I believe it is an appropriate start. My intention is to speak to all and to use my experience, strength, influence, and connections to ensure Bosnia and Herzegovina and its peoples have a prosperous future," said the newly appointed High Representative to BiH.
Schmidt met just two members of the BiH Presidency, Chairman and Croat representative Željko Komšić and Bosniak representative Šefik Džaferović. Third Presidency member, Serb representative Milorad Dodik, refused to meet Schmidt saying that he was not elected in accordance with Dayton Peace Agreement, I. e. his position was not confirmed by UN Security Council.
However, Schmidt is in the office regardless of Dodik opinion and Serb member of the BiH Presidency still did not trigger any official and legal action to controvert the appointment. It is interesting that Croat representatives did not come to the inaugural party that was organized by Schmidt on Monday evening.
After meeting with two-third of the Presidency Schmidt said to the media that he is "not here to watch what's going on and wait. I'm here to be active and believe me, I'll be just that".
"I'm counting on the close cooperation with the EU and the US. And as far as my duties are concerned, I'll see the BiH Presidency and state institutions as my primary partners, which is in line with the Dayton Peace Agreement and the constitution," Schmidt said.
He stressed that BiH integrity as a sovereign state with two entities must be protected.
"With the help of the international community, BiH will return to the international agenda. We will all work together to meet the 14 priorities for BiH's accession to the EU. Work will also be done on the 5 + 2 program, more specifically, I will work on it, and especially on the protection of the territorial integrity of BiH," he added.
He also commented on Dodik's absence, saying that he was sorry that Dodik did not attend this meeting.
"I was informed last week that on August 3, all three members of the Presidency will be here, after which there will be no dialogue, so now I hope it will be the other way around. I am convinced that we will find opportunities to work together, to meet and cooperate because it is an obligation for all of us to work together in the best interest of the state and the people of BiH. So I will continue to talk to everyone and I am convinced that we will reach a constructive dialogue so that we can work in the interest of the people of this country," he stressed.