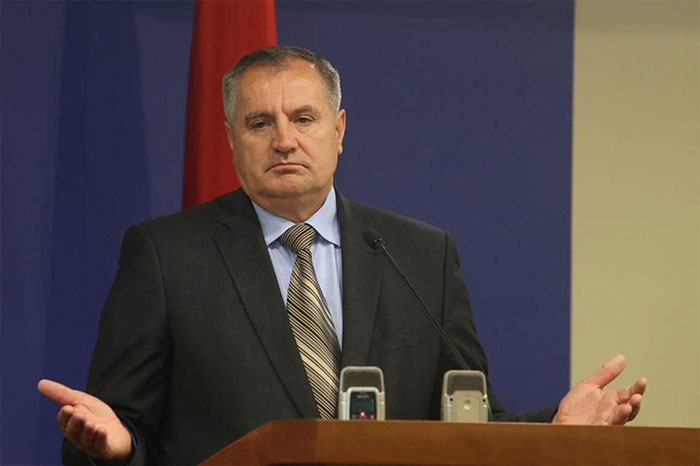 Republika Srpska Prime Minister Radovan Višković stated that all accusations regarding his alleged participation in the July 1995 events in Srebrenica, as published recently by certain media in Federation BiH, are false, which is why he announced lawsuits for slander and the even stronger resistance of Republika Srpska.
Višković said there were going to be several lawsuits against internet portals and individuals and that he would use legally stipulated forms to protect himself and his family, as well as the Office of Republika Srpska Prime Minister.
"Clean conscience is what keeps a man going in life. My family and I have clean conscience. It feels disgusting for me to even comment on all these accusations and lies. This is why I have not commented over the past few days, as I don't want to roll in the mud in which those who are attacking me are already rolling", Višković told RTRS.
Noting that a campaign for the upcoming local elections was just around the corner, Višković said that some parties, particularly the SDA in the Federation of BiH (FBiH), are not doing well and they are seeking to gain cheap political points this way.
"Maybe I lived in the conviction that BiH might have a future and that developments can be directed towards a better life for citizens; but it is obvious that those who are swearing by BiH are just hitting the last seam to make BiH disappear", Višković said.
Local portal Istraga.ba published a text last week along with an audio recording from 2017, in which protected witness M-16 in the case of Miodrag Josipović et al. can be heard testifying that the current RS Prime Minister organized the transport of Bosniaks from the Nova Kasaba village, near the eastern town of Srebrenica, to the location of their execution.
"Radovan Višković offered me money to relocate mass graves", protected witness M-16 told the Court in 2017 as Istraga.ba reports, adding that the same witness gave the exact same testimony back in 2007.
Istraga.ba also notes that, to date, the Prosecution has not indicted or marked Radovan Višković as a suspect. Back then, during the testimony of witness M-16, incumbent Gordana Tadić served as Chief Prosecutor, who had previously served as head of the War Crimes Chamber, the portal writes.
When asked where he was back in 1995, Višković replied that he was at the same place where he spent all four years between 1992-1995; in Bosnia, at the RS Army HQ serving as a Traffic Officer. /ibna