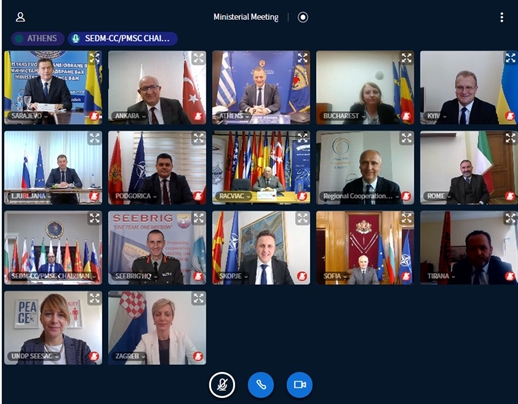 A virtual conference was held today by the Initiative of the Southeast Europe Defense Ministerial Process (SEDM), in which the Deputy Minister of Defense of Bosnia and Herzegovina Mijo Krešić participated from the BiH Defense Ministry's HQs in Sarajevo.
The conference was organized by the SEDM co-chairs – the Republic of Albania and the Republic of Greece, hosting representatives of the Ministries of Defense from state-members of this regional initiative.
"The participants reiterated the importance of the SEDM as a regional forum focused on improving good neighborly relations, increasing regional security and developing regional crisis management mechanisms", the BiH Defense Ministry announced in a statement.
After the meeting, the "Joint Statement" of the Ministers of Defense of the SEDM member-states was concluded and accepted.
The SEDM initiative has been running since 1996. Member-states include Albania, Bulgaria, Bosnia and Herzegovina, Croatia, North Macedonia, Greece, Italy, Montenegro, Romania, Slovenia, Serbia, Turkey, Ukraine, the United States of America and Georgia, while Moldova holds an observer status.
The SEDM proceedings at the level of the Ministers of Defense and Deputy Chiefs of Staff of the Armed Forces of the member states are held once a year.
"The aim of the joint activities is to promote regional co-operation and good neighborly relations, strengthen regional defense capacities and joint activities through specific projects within this initiative, as well as to establish links to facilitate integration into Euro-Atlantic institutions", the Public Relations Office of the BiH Defense Ministry announced. /ibna