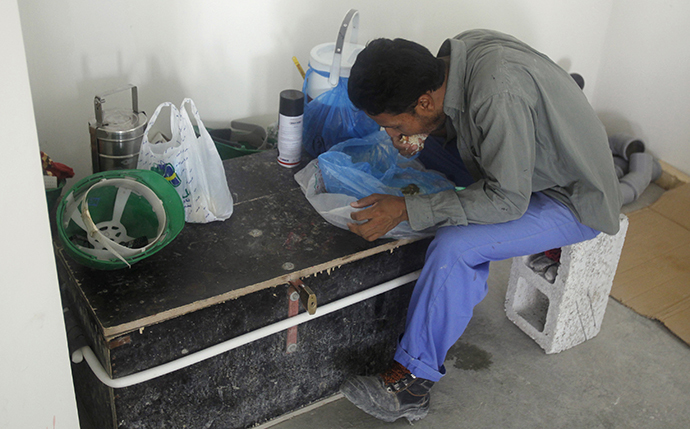 By Mladen Dragojlovic – Sarajevo
Bosnia and Herzegovina Prosecution office indicted a total of 13 persons for human trafficking related with exploitation of more than 600 workers who were engaged in construction sites in Azerbaijan. Workers were from BiH, FYR Macedonia and Serbia and were promised that they will receive regular salary, good working conditions and a number of other benefits. In the statement from BiH Prosecution office it is mentioned that this crime was committed in the period between 2007 and 2009.
After being recruited in BiH and their arrival in the foreign country, workers were kept in inhumane conditions, inadequate housing areas and the salaries were not the ones they had been agreed upon. In addition to that, they were fined for small faults and were forced to work overtime without the option to quit. Their passports were confiscated upon arrival, and as a result they were completely dependent of the defendants, because they had no other way to make a living. In addition, workers had limited freedom of movement and were forbidden of returning to BiH. The BiH prosecution office accused the persons who committed the crime of human trafficking.
In the statement to the media it was emphasized that the defendants made illegal profit of about six million BAM (about 3 million Euros). In the first two places on the list of accused persons are the brothers Milan and Bozo Vucenovic, owners of "Serbaz" company, who misused the difficult economic situation of the workers in BiH promising them a better income in Azerbaijan. Because of the inhumane conditions, several workers died in Azerbaijan.
The news of this indictment did not surprise president of Republic of Srpska Trade Union, Ranka Misic. Speaking to IBNA she said that she want to believe that this is just the beginning, because there are more cases in region similar to that one.
"I want to believe that this is just the first indictment against those who have violate the rights of workers in the worst possible way and made a profit on their hard lives. We, as a Trade Union,  were pointed to this problem later and at the time when the workers were in Azerbaijan but also, unfortunately, in many other countries. I have to emphasize that there are many more similar cases in BiH, in which many employers in the country don't pay regular salaries to their workers and that workers are forced to work overtime without proper compensation", said Misic.
During the investigation, the BiH Prosecution office cooperated with colleagues from other countries and, as they said, this case will show that BiH is fighting against all kinds of human trafficking.