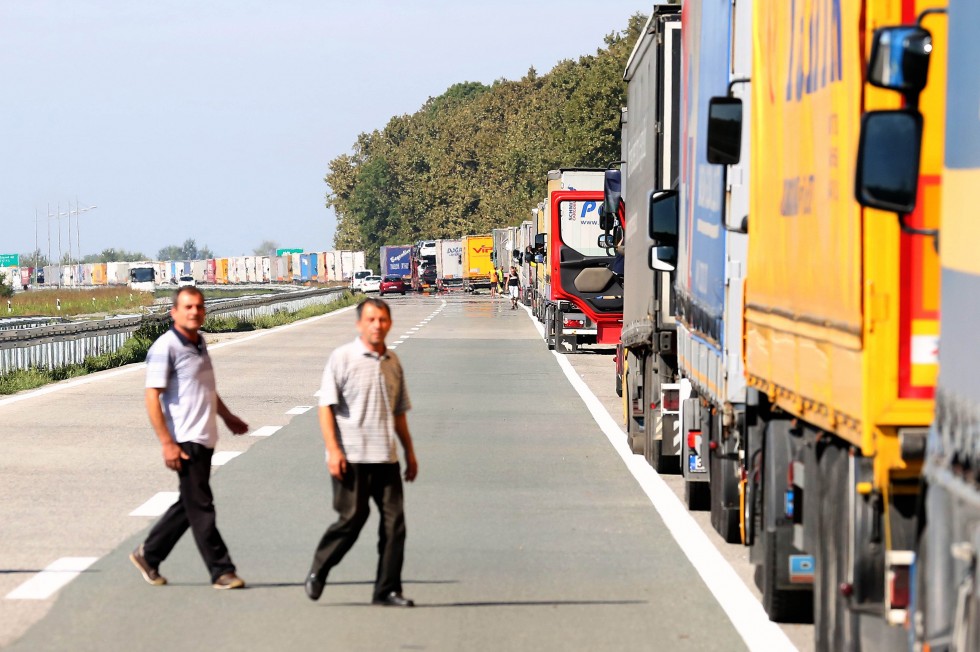 Banja Luka, September 24, 2015/Independent Balkan News Agency
By Mladen Dragojlovic
Bosnia and Herzegovina will suffer economic damage due to the dispute between Serbia and Croatia. At midnight, large number of trucks arrived on the BiH border with Serbia since they are not allowed to cross the croatian border crossings. The situation becomes even more complicated due to the administrative unpreparedness of border and custom officers for this situation.
This was confirmed on Thursday by BiH Minister of Foreign Trade and Economic Relations, Mirko Sarovic, who said that the biggest problem is the difficulties in the flow of goods. He said that this situation has brought pressure on the border crossings Raca, Pavlovic Bridge and Gradiska,  adding that the Indirect Tax Authority BiH will organize an additional shift at the border, and the Veterinary Office will be utilized to strengthen controls.
"We still don't have information on the arrival of immigrants, but the special team that will deal with the situation, has already been established. At this moment we are suffering economic damage due to the blockade on the border between Serbia and Croatia. At this moment we cannot estimate the extend of the damage, Sarovic said.
He stressed that he is in continuous contact with colleagues in Serbia and Croatia, and said that BiH will do everything to open the border crossings, to avoid traffic jams and to take care of goods and food of animal origin.
Sarovic added that on Wednesday he had a meeting with representatives of all relevant institutions in BiH, but the situation wasn't as dramatic as it is on Thursday.
Since all endangered border crossings are on the territory of Republic of Srpska, RS president Milorad Dodik condemned Croatia for closing its border with Serbia, saying that this move is inadmissible and unfair, but also that this opens prospects for BiH to become a potential space for the passage of migrants. He sent a message to certain BiH representatives inviting migrants to come to BiH to think about this invitation, and stressed that while resolving the problem of migrants, RS doesn't intend to do anything that would be to its detriment.