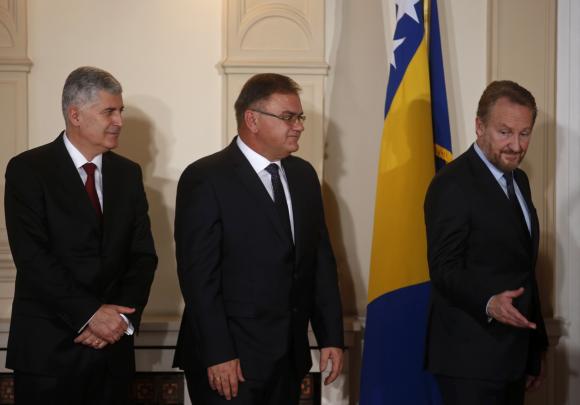 By Mladen Dragojlovic – Banja Luka
Newly elected members of BiH Presidency are inaugurated today in Sarajevo and it is the first BiH institution that is established after October elections. Its new members are Bakir Izetbegovic, Dragan Covic and Mladen Ivanic.
As it was agreed right after the inauguration ceremony, first Chairman will be Mladen Ivanic, member from the Republic of Srpska. In his first speech, he emphasised that the Dayton peace agreement will be a good frame for BiH in the long-term.
"I don't think that big changes in the Dayton peace agreement are realistic and we can't spend years in future contemplating on that question", said Ivanic.
He added that the new members of the Presidency have lot of things they don't agree on, but that in the next four years, they will work on issues where agreement exist. Ivanic announced that one of the issues they will discuss as priority is the "coordination mechanism", which is essential for BiH to open the road to the European Union.
"We must finally adopt this mechanism and I believe that the suggestion of Bakir Izetbegovic is close to a solution. It would open the perspective of the BiH to get closer to the EU and it is of common interest to all of us", said Ivanic.
The Chairman of the BiH Presidency emphasised that he will defend the equality of the Serb nationals on the whole territory of the state, but stated that he will never jeopardise the equality of other nations. Ivanic said that he was elected by the will of the citizens of the Republic of Srpska and that he will defend RS interests.
"However, this doesn't mean that I will not defend the interests of BiH as a state. The interests of RS and BiH do not have to collide", said Ivanic.
Croat member of BiH Presidency, Dragan Covic, said after the ceremony that he will advocate changes in the BiH Constitution and BiH Election law.
"On the basis of mutual understanding we can agree on common policies in foreign and domestic affairs", said Covic.
His colleague from Bosniak people, Bakir Izetbegovic, said that it is time to move forward and reject the mutual distrust and old fears, unnecessary and unproductive polemics divisive and bad atmosphere.
"We need an agreement and internal consensus for the future", said Izetbegovic.
In accordance with BiH Constitution, the Chairman of the Presidency will be changed every eight months, with Ivanic being the first.
Photo: Reuters.com