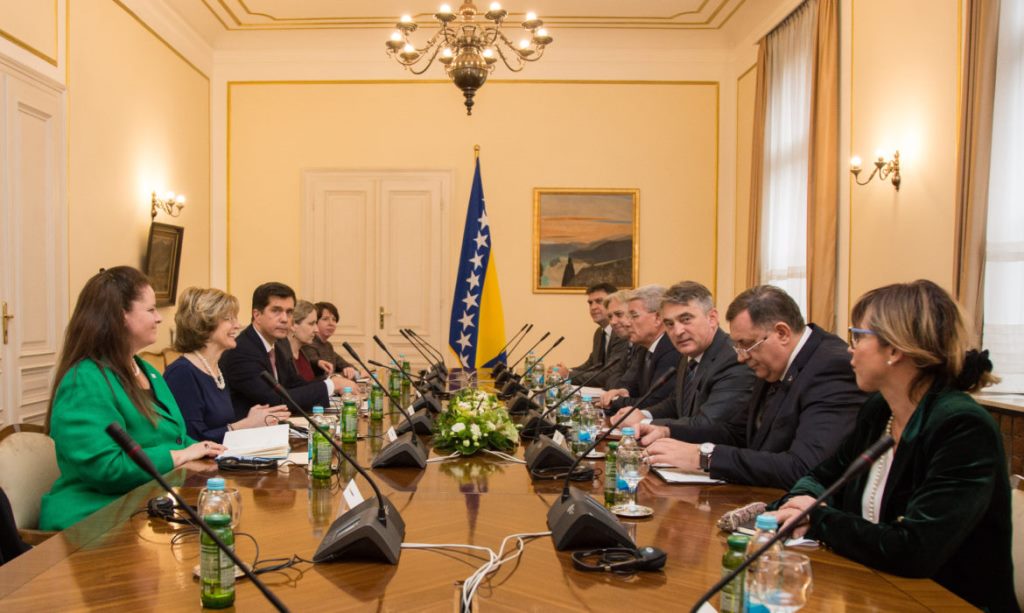 BiH Presidency members and deputy USAID director Bonnie Glick said at a meeting on Monday in Sarajevo that it is necessary to implement the Strategy of the Fight against Human Trafficking at the level of BiH. She added that this is a very important field in which BiH should improve its cooperation with USAID.
It was stressed at the meeting that the USAID expects the BiH authorities to make additional efforts to remain in the Tier 2 category and that the transfer to the Tier 3 category would mean interruption of international aid from the USAID, is mentioned in a statement from the BiH Presidency.
It was also stressed that all BiH institutions, police agencies and judicial bodies should be additionally engaged in the fight against human trafficking, so that BiH could maintain the Tier 2 status and eventually be upgraded to Tier 1.
They discussed the support the USAID is providing to BiH with a view of helping it maintain its economic, political and social sustainability and strengthen the civil society, as well as discussing the need for BiH to face the problem of human trafficking in a more serious way.
It was said that the USAID plans to continue working with BiH in the field of the rule of law and judicial reforms.
They also discussed the importance of improving cooperation between the USAID and BiH, and it was said that the organization is taking part in the implementation of a great number of projects directed at providing aid to all government levels in BiH. The aim is achieving the goals of harmonizing the economic environment, achieving a more efficient and more transparent institutions with strong civil society and building a multi-ethnic and tolerant society.
The meeting also focused on the energy sector and legislation in this field and it was agreed that work should be done to increase the potential of the energy market and improve the system, which would bring BiH into a better position in the international market.
Bonnie Glick has conveyed to BiH Presidency members regards from US President Donald Trump and his interest and the interest of the US Government in the progress of BiH and future good cooperation between the USAID and BiH and between the US Government and BiH institutions.
The BiH Presidency members expressed their gratitude for the continued support and interest of the US Government and the USAID in the progress of BiH and expressed commitment to continue good cooperation./ibna