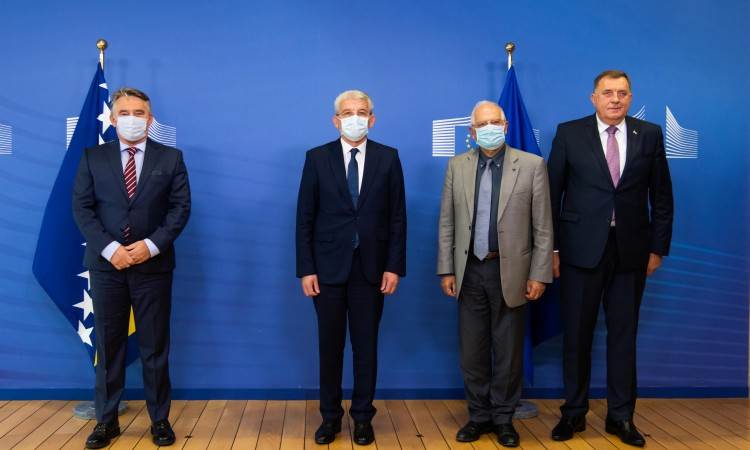 Although they travelled to Brussels in two separate planes (Šefik Džaferović and Željko Komšić on one and Milorad Dodik on another), according to a statement, the members of the BiH Presidency in Brussels "behaved in a single attitude and without any mutual disagreements".
BiH Presidency Chairman Šefik Džaferović said that they had very useful meetings with the leaders of the European Union. He added that they bear "good news" for BiH.
"Two reports will be published next week; one on the EU enlargement and the other on a support package for the Western Balkans. Regarding the EU enlargement, it was stressed at every meeting today that BiH has made significant strides in implementing the 14 EU priorities, and the country should continue to work diligently on fulfilling all the obligations from those priorities. If this is achieved, then we can expect the candidate status sometime within 2021", Džaferović stted.
As for the stimulus package for the Western Balkans to be presented next week, Džaferović said it should significantly support infrastructure, energy and environmental development in the entire Western Balkan region.
Illegal migration was also a topic of discussion at the meetings, with the EU pledging for full support toward BiH in order to address this problem as adequately as possible.
"The EU has prepared a new migration plan, which is currently being discussed by the members. It will help reduce the number of illegal immigrants in BiH", Džaferović pointed out.
As for regional integration, it was clearly stated that the "mini Schengen" initiative comprises the implementation of four freedoms and will be standardized in accordance with the EU regulations. It was underlined that this project does not operate as a substitute for EU membership, but rather as a preparation for it.
In his statement, Serb member of the BiH Presidency Milorad Dodik said both the meetings and the day in general had been good.
He confirmed the information on the recognized progress BiH has recorded on the road to the EU, adding that it was possible that the country would clinch the candidate status next year.
"That would mean a new pace for Bosnia and Herzegovina", Dodik said, adding that he fully supports this prospect.
He also expressed support for the "mini-Schengen" initiative, adding that this topic would be one of the main points during the upcoming EU-Western Balkans Summit scheduled for November 10th.
Šefik Džaferović, Milorad Dodik and Željko Komšić met in Brussels with EU Enlargement and Neighbourhood Commissioner Oliver Varhelyi, European Parliament President David Sassoli and EU High Representative Josep Borrell to discuss Bosnia's progress on the country's path to EU membership.
The members of the Presidency invited Joseph Borrell, the EU High Representative for Foreign Affairs and Security Policy, to the ceremony for the 25th anniversary of the Dayton Agreement, which he accepted. /ibna