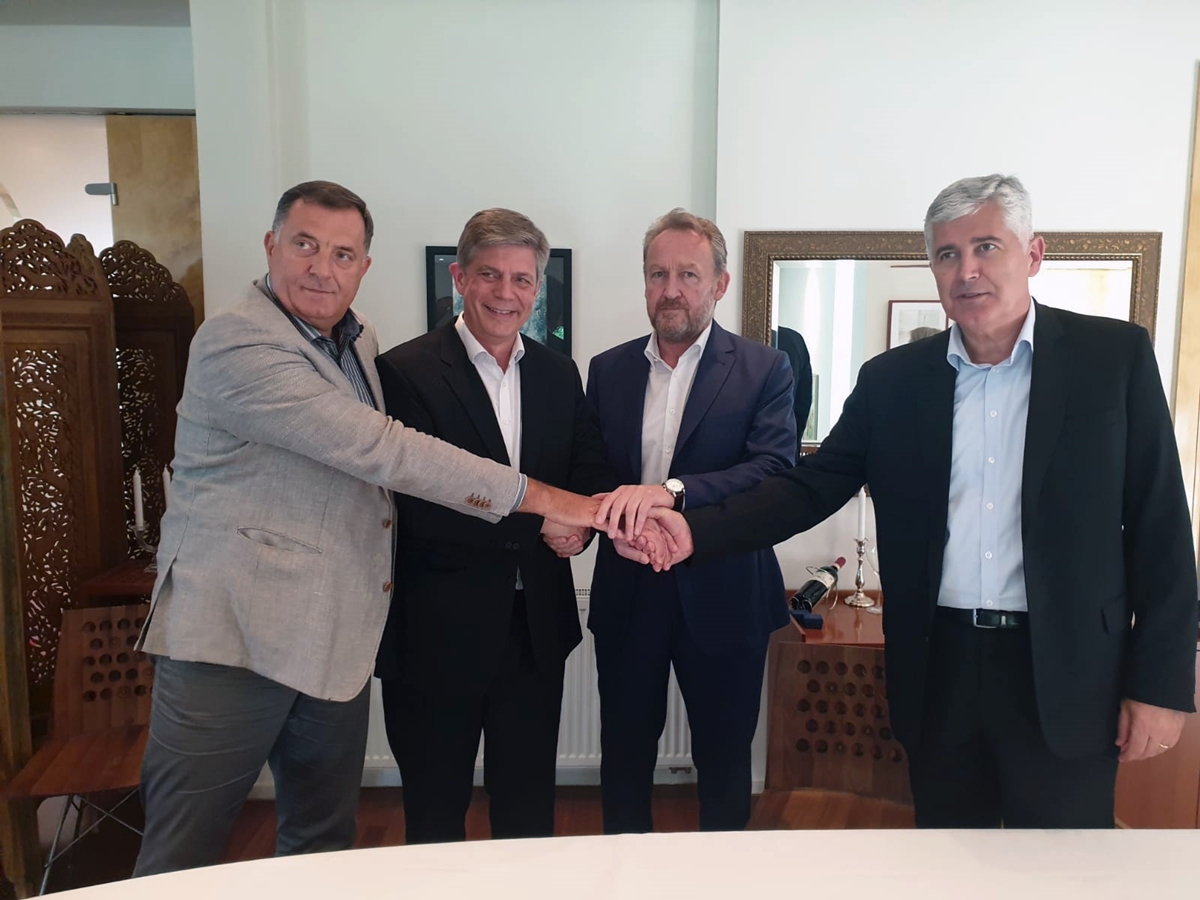 Agreement signed, implementation within 30 days
Leaders of the SNSD Milorad Dodik, HDZ BiH Dragan Čović and SDA Bakir Izetbegović reached on Monday afternoon an agreement on forming the Council of Ministers and signed the principles for forming BiH-level authorities.
The meeting was organised by the EU Delegation to BiH in Sarajevo and attended by Delegation Head Lars-Gunnar Wigemark.
Čović expressed his satisfaction that the Croatian side's persistent insistence on dialogue and agreement has been fruitful, which will finally enable the election winners to establish authorities.
"It is crucial for us that the joint statement, in fact the work programme of the future Council of Ministers and the parliamentary majority at the level of BiH, clearly specifies as priority the implementation of judgments handed down by both local and European courts relating to the BiH Election Law, in order to ensure constitutional and institutional equality of peoples and citizens, as well as their legitimate representation in accordance with the electoral will", Čović said.
Dodik said that after nine months of talks, the SNSD, HDZ and the SDA had reached an agreement to form the Council of Ministers within 30 days. He added that the agreement reflects interests that should be implemented by the future Council of Ministers.
"We did everything in our power to protect the constitutional position of Republika Srpska. This was an unnecessary stalemate during these nine months," Dodik said on the press conference after the meeting.
He has said that the decision will unblock work of the BiH House of Representatives and the House of Peoples and that new dynamics has been created in BiH in connection with the work of joint institutions, primarily regarding the European integration.
Regarding a request of the SDA to send the so-called national membership action plan to NATO during the process of agreeing, Dodik has said that cooperation will unfold in keeping with the Constitution and laws while respecting all government levels.
"We agreed on it and said that cooperation and integration would unfold in keeping with the Constitution and laws, while respecting all relevant government levels in BiH, that cooperation with NATO would continue, which we have never disputed, and that it would unfold in keeping with relevant decisions of the Presidency, Parliamentary Assembly and the Council of Ministers", Dodik said.
He stated that a commission tasked with cooperation with NATO, which will be formed by the Council of Ministers, will propose decisions to be accepted by the Presidency and Council of Ministers./ibna