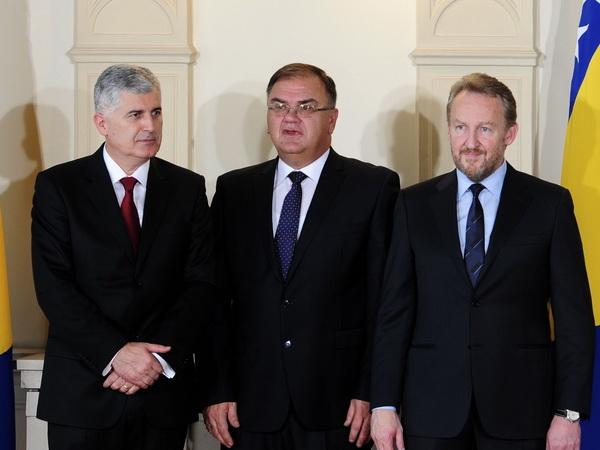 Sarajevo, January 23, 2015/ Independent Balkan News Agency
By Mladen Dragojlovic
BiH Presidency members, Mladen Ivanic, Dragan Covic and Bakir Izetbegovic, didn't fulfill the most important of the promises they gave at the joint meeting with EU high officials in December.
As Presidency member Dragan Covic told to media, in the phone conversation with the other two members of the highest BiH institution a statement on readiness for implementation of reforms demanded by the EU was not harmonised and will not be presented to leaders of political parties in BiH for signing.
"Sometime in the future we must have another session and decide which way we will go. In this moment I don't know when we will make a new statement and in which deadlines", said Covic, Croatian member of Presidency.
He explained that the opinion of the three members of Presidency is not to bring a statement that goes beyond the scope of EU demands, and is different from the original model, which has been set.
The Chairman of the BiH Presidency, Mladen Ivanic, said that he is not too optimistic that the BiH Presidency will make a joint statement at all.
"I am not optimist that we will bring the statement because it is very stupid to do something about it if some individuals have a personal and exclusive opinion, as we have seen in the last several days. Why would anyone reassured anybody in something, if it is not the aim of the majority", Ivanic told the media.
He said that the Presidency created one version of the statement proposal and political parties had time to express their opinion about it. This proposal was agreed by all three members of Presidency, Ivanic said, but its adoption doesn't depend on him but on all participants in this process.
As it was agreed earlier, Friday January 23 was the deadline for the Presidency to harmonise a statement on readiness for implementation of reforms. It was planned that leaders of political parties which have representatives in BiH Parliament sign the statement to show commitment to a wide range of social and economic reforms in the state which would provide better living conditions for citizens.
On several meetings with EU officials, including Frederica Mogherini, all of them agreed that it is necessary to solve open political questions, like the implementation of "Sejdic Finci" judgment of the Court for human rights in Strasbourg, as well as social and economic reforms.
The biggest disagreement on the proposal of the statement came from the leader of Alliance of Independent Social Democrats and president of Republic of Srpska, Milorad Dodik. On the press conference in Banja Luka, on Thursday, Dodik said that the proposal of the statement must clearly state who is responsible for these reforms and who will implement every of them; the entities or the state institutions.
Leaders of other parties from RS accepted the statement proposal as a good base for future reforms.