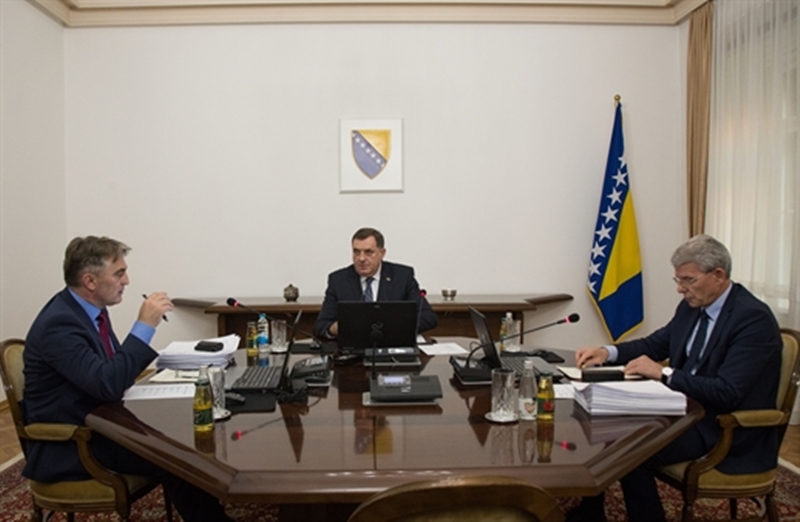 When French President, Emmanuel Macron, said that Bosnia and Herzegovina is "a time bomb", he probably did not know that the echo of the statement will trigger yet another dispute in BiH Presidency.
Macron, during his interview, described Bosnia and Herzegovina as a "time-bomb" ticking right next to Croatia facing the problem of returning jihadists, and pointed out that procedures for EU membership had to be reformed, "as they no longer serve their purpose, they are neither strategic nor political, rather bureaucratic and irreversible."
"You have to be able to consider the issue of reversibility at some point. Secondly, if you are concerned about this region /Balkans/, the main issue is neither North Macedonia nor Albania. It is Bosnia and Herzegovina. A time-bomb that is ticking right next to Croatia and faces the problem of returning jihadists", Macron said.
While Serb member of the BiH Presidency, Milorad Dodik, welcomed the statement, the other two members, Milorad Dodik (Croat and current Presidency Chairman) and Šefik Džeferović (Bosniak), strongly condemned it saying that it is not true. Moreover, Komšić said that he will call the French Ambassador to BiH for explanations.
Dodik said that Macron admitted that BiH is a danger to the EU due to Islamic terrorism.
"I am grateful to President Macron for telling the world and his own public the truth about BiH I have been pointing out for a long time, because of which I was subjected to criticism from some in the international community. What Macron said is a responsible way of resolving the problems that BiH is facing", Dodik said.
He pointed out that Macron admitted by his statement that the grotesquely structured BiH was a danger to the EU due to Islamic terrorism and jihadists recruited in BiH for Syria, Iraq, etc., who were now returning to the country.
Bosniak member of the Presidency, Šefik Džaferović, in just few sentences commented the Macron statement.
"Since 2016 not one departure to battlefields in Syria was recorded. BiH has undertaken measures to solve that problem. The basic problem of Bosnia and Herzegovina are the forces that want the division of the state and Mr Macron knows that. The international community is also to blame for that", he stressed./ibna