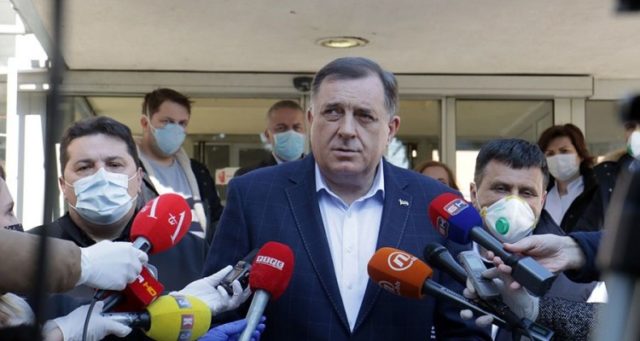 BiH Presidency Chairman Milorad Dodik tested positive for coronavirus, the University Clinical Centre of RS in Banja Luka announced.
"Today, a council of doctors met at the University Clinical Centre of Republika Srpska and discussed the health condition of the Serb member and Chairman of the Presidency of BiH, Milorad Dodik. He was found to have difficulty breathing and stomach pain. Bilateral pneumonia was diagnosed, and the third test for the novel coronavirus came back positive," the UCC RS announced in press release.
They add that his health condition is stable.
"The health condition of Milorad Dodik is stable; he is feeling well and receiving adequate therapy. The council continues to monitor his health condition," the announcement continues.
On December 19, it was reported that Dodik would remain in self-isolation after one of his contacts had tested positive for COVID-19. No further information was released regarding the identity of the contact. Later on, the Chairman was admitted to Banja Luka hospital, however there were still no indications that he had contracted the virus. Based on official statements, he was admitted for stomach pains and exhaustion. Nobody was mentioning Covid-19, yet rumours were circulating that he would be transported to the hospital in Belgrade. Today, right after rumours were shut down, it was confirmed that he had tested positive for coronavirus.
Apart from Dodik, as health authorities in Bosnia and Herzegovina announced on Tuesday, a total of 674 people tested positive for the coronavirus and 85 died in the last 24 hours.
Since Monday, Of the 2,641 samples tested in BiH Federation (FBiH), 463 have come back positive and 62 coronavirus-related deaths have been recorded. In the Republika Srpska (RS), 180 of the 635 people tested were found positive, while 22 have died due to COVID-19. Brčko District also reported 31 new coronavirus cases and one more COVID-19 fatality.
More than 106,000 people have tested positive for the coronavirus in BiH since the outset of the pandemic, while more than 71,000 have recovered so far. The COVID-19 death toll in the country has risen to over 3,700. /ibna