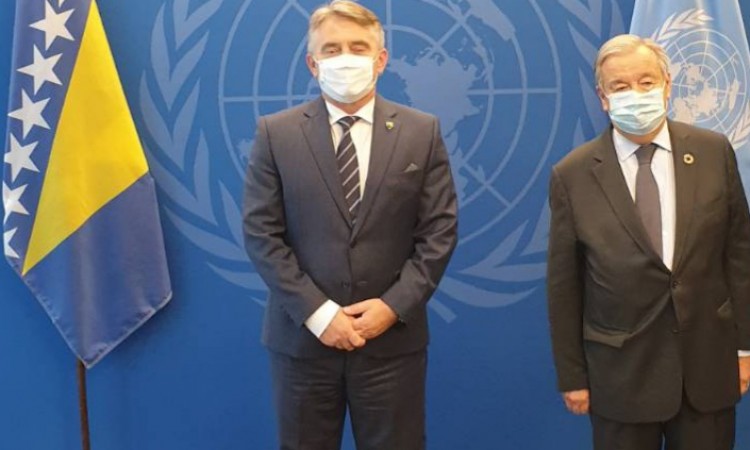 Despite the protest of BiH Presidency member from Republika Srpska, Milorad Dodik, on the participation of the Presidency Chairman Željko Komšić to the UN General Assembly, Komšić met UN Secretary-General, Antonio Guterres.
Dodik sent the letter to Guterres and General Assembly explaining that Komšić is in New York as a private person because the Presidency did not agree on his participation. He asked UNGA not to allow Komšić to address the world leaders saying that the permission would be "a final nail in the coffin of BiH".
"If the Secretary-General ignores what is stated in the letter, then it shows that the highest UN leadership got involved in the disintegration of Bosnia and Herzegovina because it ignored the Constitution and the procedure of BiH. This trip to New York was discussed at a previous session of the Presidency and did not receive approval," said Dodik.
However, on the eve of the 76th session of the United Nations General Assembly (UN) Komšić met with the UN Secretary-General, Antonio Guterres.
During the talks, Komšić explained the position of the state of Bosnia and Herzegovina within the framework of Euro-Atlantic integration, citing the dynamics of reforms on the path of Bosnia and Herzegovina towards NATO and the European Union.
Komšić pointed out that "neighbouring countries that were actively involved in the conflict during the war in Bosnia and Herzegovina, carrying out aggression against the internationally recognized Republic of Bosnia and Herzegovina, still, unfortunately, view Bosnia and Herzegovina as war loot."
He stated that in Bosnia and Herzegovina, i.e. in the Republika Srpska (RS), there is political opposition to the law banning genocide denial and that a member of the BiH Presidency from the RS, Milorad Dodik, uses opposition to the law as a means and excuse for political blockades.
He stressed that some political elites in Bosnia and Herzegovina seek to promote ethnic exclusivity, which is discriminatory and contrary to international and democratic standards of equality of citizens, and called for stronger UN support for the protection of fundamental human rights.
According to the press release from Komšić cabinet, during the talks, UN Secretary-General Antonio Guterres stressed that he was following political developments in Bosnia and Herzegovina and the region with special attention, as well as understanding the seriousness and complexity of the current political situation, emphasizing that the United Nations would remain committed to supporting Bosnia and Herzegovina.