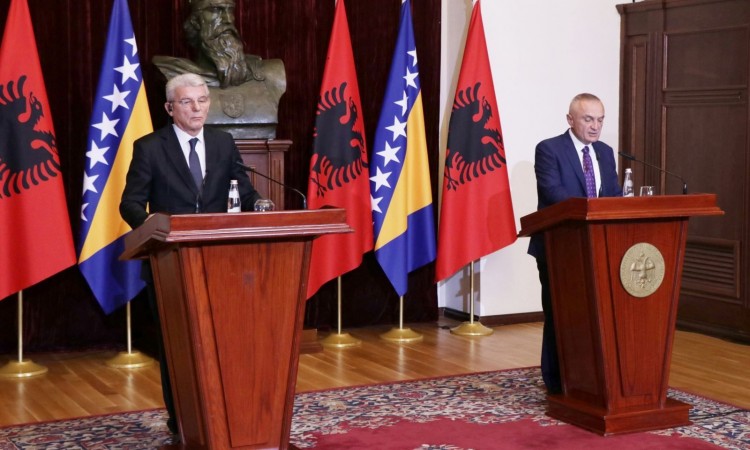 BiH Presidency Chairman Šefik Džaferović met today in Tirana with the President of the Republic of Albania Ilir Meta with whom he discussed bilateral relations between the two countries and economic cooperation.
The Albanian President welcomed Džaferović's visit and said that BiH and his country have a long-standing friendship.
Džaferović congratulated Albania on the opening of EU accession talks and expressed hope that the Union would soon grant candidate status to Bosnia and Herzegovina. He said that the recent talks between the Presidency members and EU officials in Brussels gave impetus to BiH efforts to meet the conditions for achieving that goal.
Džaferović and Meta also spoke about regional cooperation and building trust in the region and discussed the 'Mini Schengen' initiative, which would remove obstacles for the movement of goods, persons, capital and services in the region.
Džaferović also informed Meta of the decision by the BiH Presidency to open an embassy in Albania, while Meta said his country would also open an embassy in Bosnia and Herzegovina.
The two also emphasised the interest in strengthening economic relations between their countries, especially in regard to energy, agriculture, and tourism.
Džaferović thanked Albania for granting the Bosniak people the status of a national minority because they are good citizens, they respect the country's integrity, and he congratulated Albania, which will start negotiations for membership in the European Union together with North Macedonia.
"This is important because this integration is important for the entire region. BiH expects a candidate status next summer. The perspective of all the countries of the Western Balkans is membership in the European Union, and this has never been a dilemma for me," Džaferović reminded.
Meta pointed out that the two officials discussed all issues during the cordial meeting, bilateral relations as well as regional and international relations, but stressed the need to improve road infrastructure and make every effort to develop air traffic to improve tourism.
The collocutors agreed, Meta says, that relations between the two countries must be strengthened at a new pace, but also with other countries in the region so they can offer a quick prospect of recovery and stopping the departure of people.
It is necessary to improve trade with other countries and help build ties between countries. Agreements on the recognition of driving licenses and economic cooperation and foreign chambers of trade will be signed, and joint activities such as economic and business forums will be organized.
During the meeting with Albanian PM, Edi Rama, Džaferović said that there is a mutual interest in improving the existing good relations. They discussed cooperation in numerous segments and the importance of numerous concluded bilateral agreements. It was emphasized that both countries should do their part on finalizing the agreements and memoranda that are in the conclusion phase in order to improve the overall cooperation.
Today, the Chairman of the BiH Presidency, Šefik Džaferović, also visited the Cemetery of National Heroes and laid flowers at the Mother Albania Memorial. Later he visited Bosniaks who live in Durres area. On Tuesday, October 6, Džaferović will meet with Albanian Parliament Speaker Gramos Ruci. A meeting with Tirana Mayor Erion Veliaj, who will present Džaferović with the Key of the City of Tirana is also planned./ibna