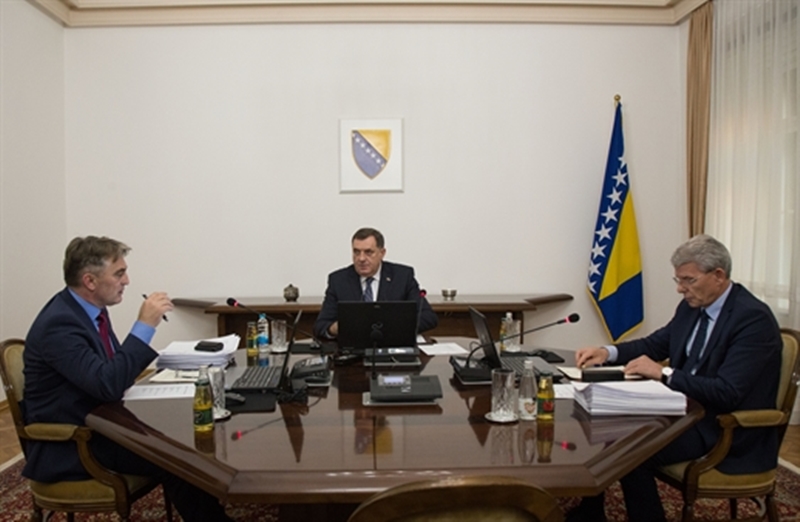 After more than a year without a functional government, the BiH Presidency appointed Zoran Tegeltija, member of the Alliance of the Independent Social Democrats (SNSD), to the position of Chairman of the Council of Ministers.
This means that a government will soon to be formed and that normality and functionality will finally return to BiH in some of the main state institutions. It seems that the Presidency members finally found common ground, but it means that somebody went out of his way to achieve this.
Information says that the BiH Presidency held an extraordinary session and took the decision that citizens have been waiting for a year. Also, it was said that "the Presidency will send the document named "Program of reforms in BiH", which is not the Annual National Plan (ANP). Obviously, members of the highest political institution in the state made some compromise. Was it possible to do that earlier?
The answer is probably "yes" but knowing the personalities of the main "players" in this game one cannot be so sure. Until today, the three members of the Presidency appeared immovable on their positions, which they justified by saying they served the "national interest" of the nations that elected them. The stance of the Serb member, Milorad Dodik, was that no document that would be bring the country closer to NATO full membership would be sent from the BiH in Brussels. Now, it seems that a document will reach the NATO HQ, but it will not be ANP and nobody knows at this moment what the "Program of reforms" in fact entails.
Bosniak member, Šefik Džaferović, following the stance of his SDA party and its president, Bakir Izetbegović, claimed that he will not give his consent to Tegeltija's appointment until BiH send the ANP to Brussels. He was determined that it must be ANP, not some other document. He has obviously changed his position on the matter and agreed to send another document, which consenting to Tegeltija's appointment.
The third member, Croat Željko Komšić, had the same opinion as Džaferović but at the press conference after the session, as the Presidency Chairman, he confirmed that "the document will be sent to Brussels as soon as the BiH Parliament confirms the appointment of Tegeltija and the new members of the Council of Ministers".
A prompt reaction came from Serb Democratic Party (SDS) president, Mirko Šarović, who said that Dodik betrayed the "national interests of Serbs in BiH and agreed with a state membership in NATO", contrary to Republika Srpska National Assembly resolution on military neutrality.
The good thing, in this case, is that the state governance is unblocked and that a lot of decisions that have been pending for more than a year can finally be adopted by the new Council of Ministers. However, the appointment must still be discussed in the BiH Parliament and the current agreement of the Presidency, whatever it is, could collapse in the end./ibna