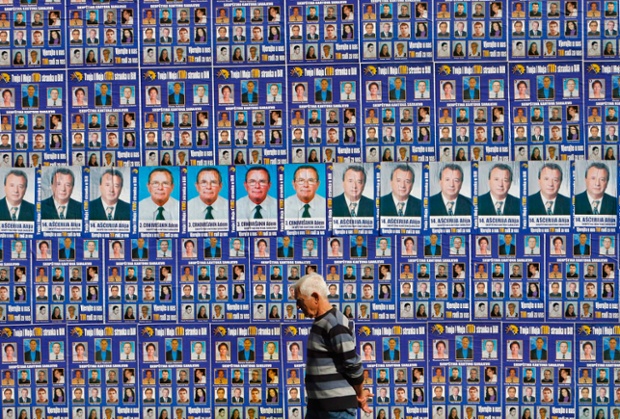 By Mladen Dragojlovic – Banja Luka
Just a few days after the Central Election Commission announced the final results of the general elections in BiH, political parties begun negotiations on possible coalitions, in order to gather enough seats on all parliaments to form a majority.
In any other country it would have been a simple enough process, but not in BiH. Two weeks ago, the citizens voted for ten cantonal assemblies in Federation BiH (F BiH), Parliament F BiH, Parliament of Republic of Srpska (RS), president of RS and BiH Parliament. They had a chance to vote for 50 political parties, 24 coalitions and 24 independent candidates. The total number of names on all lists was 7,748.
The winners of the elections, the Party of Democratic Action (SDA) in F BiH and the coalition of parties gathered under the umbrella of Alliance of Independent Social Democrats (SNSD) in RS, won the elections so narrowly that it is clear that establishing governments will be a hard task. In this situation there is room for other parties and coalitions to try to form a majority on all levels.
In F BiH, the SDA and the second on the list, Party for better future BiH (SBB BiH) have already decided to stay on opposite sides. During the electoral campaign it was made clear that only a miracle could bring these parties together after elections, because SBB BiH leader, supported with the biggest newspaper in BiH "Dnevni avaz", led a brutal campaign against SDA leaders, especially Bakir Izetbegovic, son of late founder of SDA and first president of BiH, Alija Izetbegovic. It is now clear that both parties will negotiate with the new star, the Democratic Forum, leaded by Zeljko Komsic, former member of Social Democratic Party BiH, which is, according to analysts, the biggest loser of elections.
A similar situation has been formed in Republic of Srpska, where the biggest coalitions, one leaded by SNSD and the second leaded by Serb democratic party (SDS), already declared that they will not join forces in the entity's Parliament. SNSD and its partners have a tight majority and the coalition of Bosniak parties "Fatherland " ("Domovina") seeks its own chance to take a positions in RS Government in change for support. "Domovina" has already declared that, regardless who will form the Government, they will demand five of the sixteen ministries, including the Ministry of education. This Ministry is especially interesting for Bosniaks in RS, because of cases of discrimination of pupils in the villages Vrbanjci and Konjevic Polje, where children don't have a chance to attend subjects that are relevant to their culture and religion.
Also, since SNSD lost about 25 percent of its seats in RS Parliament, compared to the previous mandate, it is expected that this party, as the biggest in the coalition will have to give more significance to its partners, the Socialist party and the Democratic Peoples' alliance, in order to prevent them from joining the opposition block. If just one of this parties leave this coalition and make agreement with the Alliance for changes, leaded by SDS, SNSD will have no chance of achieving a majority in RS Parliament.
And that is not the whole story, because there is state level and establishing of majority in BiH Parliament. Things on that level are maybe more complicated than ever because all parties are divided by nationalities.
SNSD and the biggest Croatian party, Croatian democratic community (HDZ), has already agreed to cooperate on all levels. SBB BiH will negotiate with SNSD and not with the SDS coalition. The reason, as SBB BiH leader, Fahrudin Radoncic explained, is that SNSD did not have war criminals as leaders in the past. At same time, SDA declared that they will not negotiate with SNSD, with SDS being their choice.
All of them will also try to negotiate with the Democratic Front, because Komsic is a "Social Democrat Rebel" and SDA hopes that they will not negotiate with the SNSD. On other hand, its leader Zeljko Komsic is a former soldier of the Army of Republic BiH, having been awarded the biggest war medal – the "Golden lily", so SBB BiH leaders hope that DF will not negotiate with SDS on state level.
Photo: The Guardian