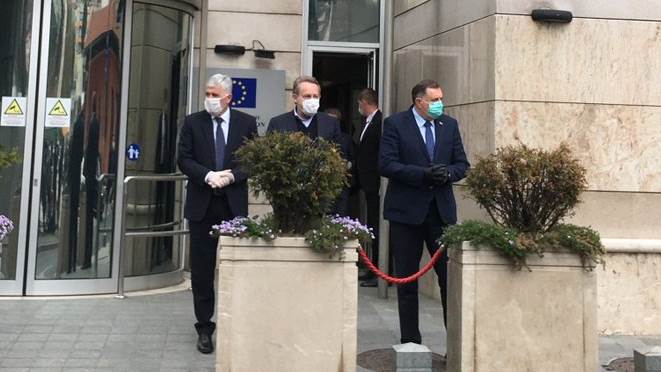 Bosnia and Herzegovina political leaders of the Party of Democratic Action (SDA) Bakir Izetbegović, the Croat Democratic Union (HDZ) of BiH, Dragan Čović and the Alliance of Independent Social Democrats (SNSD), Milorad Dodik, with representatives of the European Union Delegation to BiH and the United States Ambassador, at the meeting held over the weekend, agreed on the allocation of funds from the loan of the International Monetary Fund (IMF).
As the representatives said after the meeting, the 330 million euros worth loan will be divided in the following way: 62 per cent for the Federation of Bosnia and Herzegovina, 38 per cent for the Republika Srpska, and half a per cent from each of the entities will be secured for the Brčko District.
It was further agreed to support the formation of a coordinating body, which will deal daily with devising measures and accelerated reactions, which will primarily include three prime ministers – the Chairman of the Cabinet and two entity prime ministers and with them the minister of security, the minister foreign trade and economic relations.
In their statements after the meeting, political leaders said that the agreement is good or, as SDA leader Bakir Izetbegović said, "solid".
"In the Federation of BiH, we will continue to agree on the distribution because the cantons carry a large part of the fight against the coronavirus when it comes to healthcare, police, and employment. This burden will be predominantly on the cantons. So we will agree on these percentages in the coming days", Izetbegović said.
HDZ BiH President, Dragan Čović, stated that all the issue of the loan was concluded at the meeting.
"The Fiscal Council has probably already finished its work, thus the matter is over, the IMF representative is here and he will be presented with it. We actually finished this job while we were here", Čović said.
SNSD leader, Milorad Dodik, said that it was a good thing that there would be no blockade of the IMF loan for BiH.
"Almost at the last moment, in this dynamic that has been determined in some way by the IMF, we have managed to reach this agreement before the IMF Executive Board meeting and that these funds will come in as was intended. In any case, I express my gratitude to the ambassadors for putting in the effort. But, it would be better for Bosnia and Herzegovina if we could have done all this by ourselves and if there had been no need for any intervention", Dodik stated.
Interestingly enough, two of the three political leaders do not represent any kind of institution, which means that the agreement was reached outside the state system of BiH. But in this country everything is possible./ibna