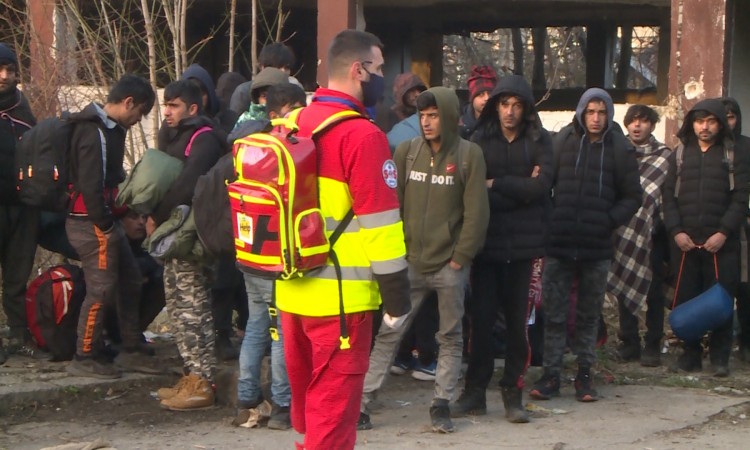 Today, the Una-Sana Canton (USC) police relocated migrants and refugees from abandoned buildings in the city of Bihać to the migrant camp in Lipa.
"With the arrival of better weather, there are more and more migrants and refugees on the streets of Bihać, which means a significant increase in the volume of work of police officers. This morning, we carried out an action of moving more than 200 people from the building of the former Krajinametal and the unfinished building of the Retirement Home to the camp at the area of Lipa near Bihać. This was realized with the aim of ensuring more adequate living conditions for these people, and everything went smoothly," said the spokesman of the USC Police Ale Šiljdedić.
The transfer was carried out in coordination with the Service for Foreigners Affairs of Bosnia and Herzegovina and with the help of members of the humanitarian organization "SOS Bihać".
All people will be accommodated in the Lipa camp, where food meals, clothes and shoes, living conditions in heated areas, medical care, as well as areas for maintaining personal hygiene are provided.
Šiljdedić stated to IBNA that no unaccompanied minors were found among these migrants.
"This is a large group of adult migrants who arrived in the abandoned facilities and spent there some time. Some of them were earlier in reception camps but decided to leave. We found that there is a place in Lipa camp and transported them there. Now, they will have better living conditions," Šiljdedić explained.
He added that, with improved weather conditions, more migrants are expected to arrive to the Una-Sana Canton in an attempt to cross the border and reach EU countries. "They know that it is possible to cross over this border and there will be always those who are ready to try," Šiljdedić concluded. /ibna