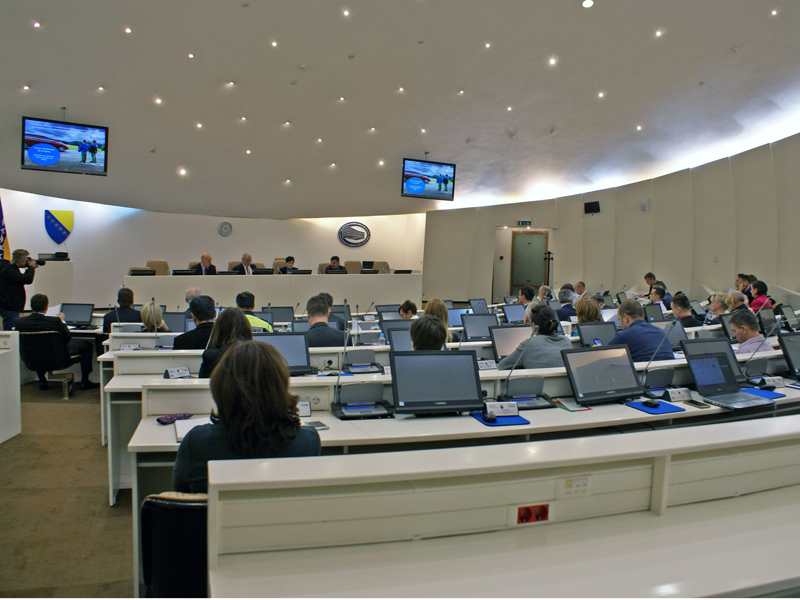 BiH Parliament definitely rejected a set of excise duties laws, which was one of conditions for new tranche of International Monetary Fund loan.
The set of these important laws stipulates an increase in excise duties on oil, oil products and fuel in BiH for 15 fenings per liter. But according to decision of MPs in the House of Representatives of the Parliamentary Assembly of BiH to support the negative report of the Commission for Finance and Budget on the set of laws, laws proposed by the BiH Council of Ministers will be withdrawn from parliamentary procedure.
Twenty one Mps expressed negatevely on the Report of the commission, 14 of them were against and 1 abstained, and with a sufficient entity majority was concluded that the law is rejected. Commission for Finance and Budget of the House of Representatives of the Parliamentary Assembly of BiH, expressed dissatisfaction with the non-existence of protective mechanism for businessmen, inadequate explanation of the reasons and the lack of any kind of analysis.
The main remarks on the proposed legal solution was that there was no alternative ways for the financing of infrastructure projects. Also, they submitted changes to the law that represent a condition for the second tranche of funds from the IMF in the same parliamentary procedure four times in a row.
BiH Council of Ministers Chairman, Denis Zvizdic, during the parliamentary discussion tried to convince MPs that funds from the increase of excise duties will not be used for "patching the budget holes", but for the construction of highways and roads across the country. He added that the claim that there will be increase in the prices of goods and services is not true.
"Without quality road infrastructure, BiH can not speak of dynamic development", Zvizdic said.
He also stated that BiH is a moderately indebted country with a debt of 6 billion euros. Zvizdić defended the adoption of the law as he argued it would free 860 million euros for 11 sections of the Corridor Vc, and that the increase in excise duties is a precondition for the opening of 70 construction sites in the whole country.
But it was not enough for the majority of MPs to vote in favour of set of laws. One of those who was against this proposal, BiH Social Democratic Party MP, Sasa Magazinovic, said to the media that most MPs were "ripped from the clutches" of, not only their party leaders, but also the IMF.
"An increase in fuel prices, means that all other prices of services, commodities would also jump, but there was no program to reduce such a negative impact on people's lives. We were told that money would go on road construction, but the Federation BiH Government said a few days ago it would go to pay back the debts", said Magazinovic, explaining the decision not to vot in favour of the bill.
Commenting on the failure of adoption in BiH Parliament, RS President Milorad Dodik and Prime Minister, Zeljka Cvijanovic, were not too much worried. They stressed that RS does not depend on the arrangement with the IMF, but that these laws are part of the Reform agenda. They stressed that the RS Government expected this result and that their party, Alliance of Independent Social Democrats, will not participate in negotiations about excises any more. According to them, it is up to those who made the decision at the state level, to explain their views to the international community and the IMF./IBNA