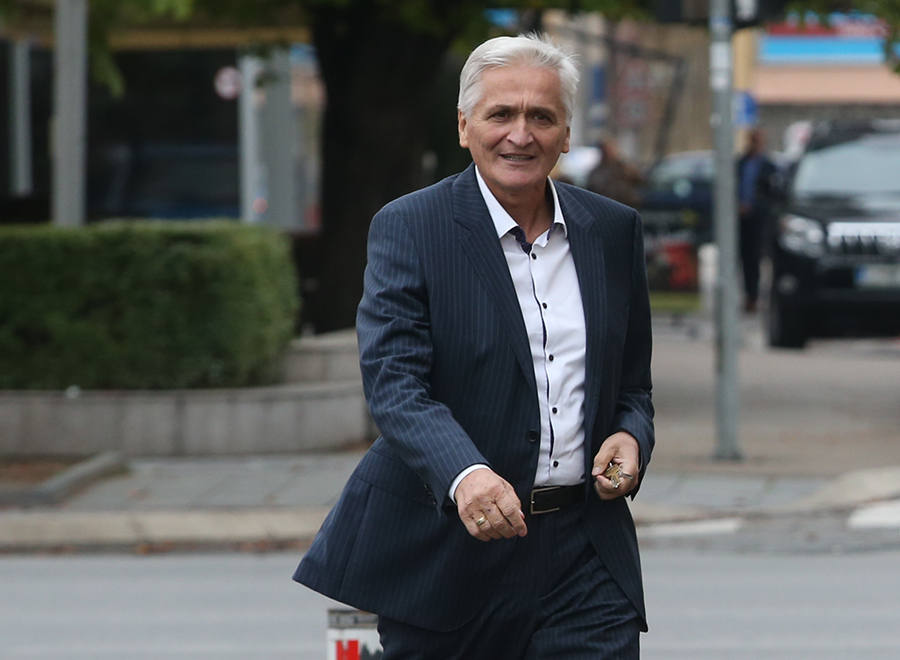 ---
The name of the member of the House of Representatives in BiH Parliamentary Assembly and Alliance of the Independent Social Democrats (SNSD) vice president, Nikola Špirić, since Monday evening is on the US "black list".
"The Department is publicly designating Mr. Nikola Spiric, a member of the House of Representatives in Bosnia and Herzegovina, under Section 7031(c) of the Department of State, Foreign Operations, and Related Programs Act of 2018, due to his involvement in significant corruption. Section 7031(c) provides that, in cases where the Secretary of State has credible information that foreign officials have been involved in significant corruption or gross violations of human rights, those individuals and their immediate family members are ineligible for entry into the United States. Mr. Spiric engaged in and benefited from public corruption, including the acceptance of improper benefits in exchange for the performance of public functions and interference with public processes, during his tenure as a member of the House of Representatives in Bosnia and Herzegovina.
The law also requires the Secretary of State to publicly or privately designate such officials and their family members. In addition to the designation of Mr. Spiric, the Secretary is also publicly designating Mr. Spiric's spouse, Nada Spiric, his son, AleksandarSpiric, and his daughter, JovanaSpiric", reads press release from US Department of State.
The US Embassy to BiH issued press release saying that "US State Secretary Michael Pompeo and the US State Department have credible information that Mr. Nikola Spiric was engaged in and benefited from public corruption".
"Given the circumstances of this specific case, we believe it is important for the authorities and the public of Bosnia and Herzegovina to be informed about how seriously the United States of America takes the problem of public corruption and the involvement of Mr Spiric in the corruption activities", the Embassy notes.
After first shock in Republika Srpska ruling SNSD party, the party leader, Milorad Dodik, who is also on the US "black list", said that this decision is an "act of the departing US Ambassador, Maureen Cormack".
"US Ambassador to BiH, Maureen Cormack, flagrantly interfere in political processes and elections in BiH just 28 days before the elections… I must say that I see this as the last hitch of departing Soros's ambassador in a scenario that has been observed before", Dodik said.
He proceeded in sending a message to Ambassador Cormack that the sanctions are not going to disturb SNSD campaign, nor what this party and coalition partners are clearly committed to do after another "convincing electoral victory".
"This will only strengthen us in order to be even more committed to protecting the interests of Republika Srpska and the Serb people", Dodik said.
Earlier, he stated that the sanctions against him would be lifted soon after "the rests of former US administration leaves the office of the US president, Donald Trump". However, he forgets that Mike Pompeo, Secretary of State who is appointed by Trump, co-signs the Špirić sanctions.
Špirić also blamed Ambassador Cormack for the sanctions but later added that the case has the "signature of Serbs who are in BiH joint institutions". These politicians are from PDP and SDS, parties that, on the Republika Srpska government level, are in opposition to SNSD and its coalition partners.
"It is absolutely clear that the sanctions against me and my family members are a product of the frustration of the outgoing US Ambassador to BiH, Maureen Cormack, who made a desperate move 28 days before the general election in order to help her puppets in Sarajevo – the Alliance for Change. Of course, I got nothing to feel bad about because, in all my 40 years of political career, I have always been responsible to my people and available to all law enforcement institutions in my country. On the contrary, I feel proud because this shows how much the people who don't like Republika Srpska and my Serb people see me as an obstacle to their goals", Špirić said.
According to the public however, Špirić is one of the politicians who is deservedly referred to as "controversial". Since he started his engagement in politics, Špirić changed several parties and left them at moments when they passed through hard times. His last station is SNSD where he came from Party of Democratic Progress (PDP). Before PDP, he was member of Serb Democratic Party, president of the Party for Banja Luka and Krajina and Serb Radical Party RS. Shortly after his transfer to SNSD, Špirić began the way to the top of the party. In one mandate, he was the BiH Council of Ministers Chairman and later BiH Minister of finances. He came under the suspicion for corruption when media made public the fact that Špirić and his family have several apartments in various cities, including Vienna, Belgrade and Novi Sad. Responding to this criticism, Špirić said that he has purchased all these properties with the money earned from his books about economy. On the 2018 General Elections in BiH, Špirić is a candidate for the MP in RS National Assembly.
Along with Špirić and Dodik, under US sanctions are also the Serb Democratic Party. Sanctions against this party have been introduced more than decade ago, with the US keeping them in place./IBNA