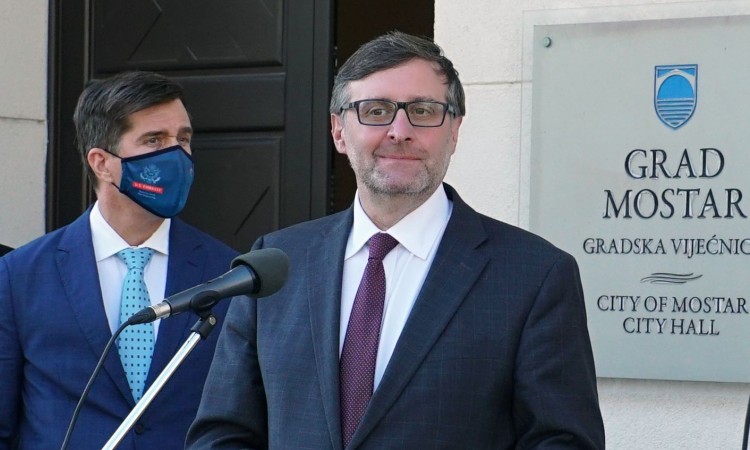 On the second day of his visit to BiH, US Deputy Assistant Secretary of State for European and Eurasian Affairs and State Department Special Envoy for the Western Balkans Matthew A. Palmer met in Mostar on Thursday with representatives of parties that have their committees in the city.
"Today, myself and US Ambassador to BiH Eric Nelson met with representatives of nine political parties that participated in the negotiations to reach an agreement on holding elections in Mostar after a full 12 years, which will allow the citizens of this city to vote after such a long time. It is very important that these elections are held in accordance with the highest democratic standards", Palmer said following the meeting.
He added that holding the elections for the Mostar City Council was "a great achievement and a positive step towards democratic development and progress".
"It is also important that these elections, when held in December, are fair and correct and that citizens have confidence that the process will showcase the true essence of their will. It is very important that people go out and vote in the elections and that is why I will meet today with a group of young people to appeal to them and encourage them to participate in the political process, to go out, vote and express their opinion", Palmer added.
As he said, the United States, the European Union and the OSCE are working to support civil society to ensure that all polling stations in Mostar are 100% covered by observers.
"Our focus on Mostar will not end on election day. We will be here after the election to help the new authorities set up the administration, work and provide services for the benefit of the citizens of Mostar. I am confident that the elections will be fair, correct and transparent, and the results will reflect what the citizens really want", Palmer continued.
He also briefly referred to the recently signed agreement on the normalization of economic relations between Belgrade and Priština.
"Washington is very pleased with the outcome of those talks and the agreement that has been reached", Palmer concluded. /ibna