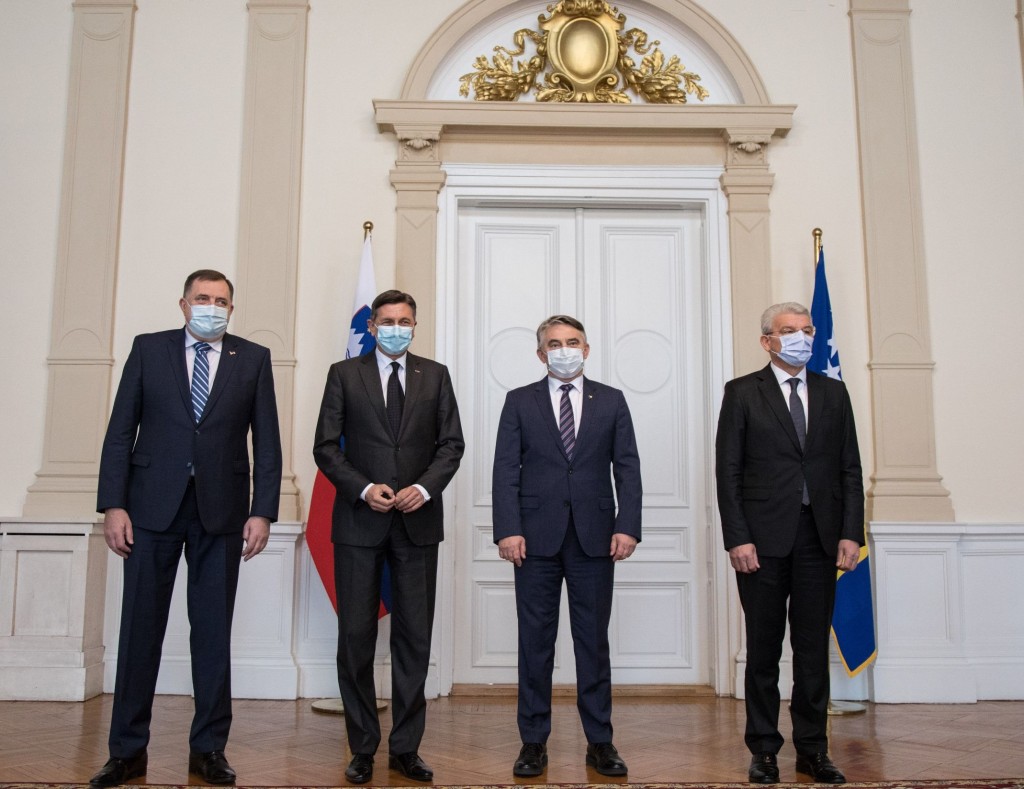 Slovenian President Borut Pahor met today in Sarajevo with the members of the Presidency of BiH, while a meeting with Slovenian soldiers representing the international forces is also scheduled on the occasion of his visit.
Pahor announced that Slovenia will donate 4,800 doses of coronavirus vaccines to Bosnia and Herzegovina.
Serbian member and chairman of the BiH Presidency Milorad Dodik said after the meeting that Slovenia is working on how to strategically address issues in the post-pandemic era, how to best respond to current challenges, how to best utilize those crises and other countries to follow suit. "The pandemic has caused many economic difficulties not only in our country, but around the world. Our economy depends on the economy of the European Union; we are the largest economic partners, and Slovenia is fifth in our foreign trade partners ranks. I think we should continue on the path of development", said Dodik.
He added that the members of the Presidency also discussed vaccines with the Slovenian President, "on which we all rely through COVAX and we hope for this process to be normalized in the foreseeable future."
"We also discussed the issue of migration. BiH is known for illegal migration and migrants use the region as a transit country. A significant number remain here because the chances of entry into the countries of Western Europe are getting slimmer. People stay here without wanting to stay. It is becoming more belligerent in terms of moving further, and the EU does not allow them to reach to its territory. We cannot solve this issue on our own and we touched upon that, as well as upon the experience of Slovenia, which can help BiH as well," the BiH Presidency chairman emphasized.
As Dodik stated, the topic of the meeting with Pahor was also the Brdo-Brioni Summit, expected to take place at the end of this month in Ljubljana, where every issue from today's discussion will be put on the agenda.
He also stressed that the most important issue is the EU enlargement along the way.
"We see the fatigue that we want explanations, to have a dialogue with the EU that would help define deadlines and transit times for further integration, and I want to emphasize our support for the Slovenian president's initiative that the EU should treat this region in a special way," Dodik underlined in his address to the public.
He also pointed out that the members of the Presidency of BiH appreciate the arrival of the President of Slovenia Borut Pahor at a time when traveling is scarce due to the pandemic. /ibna