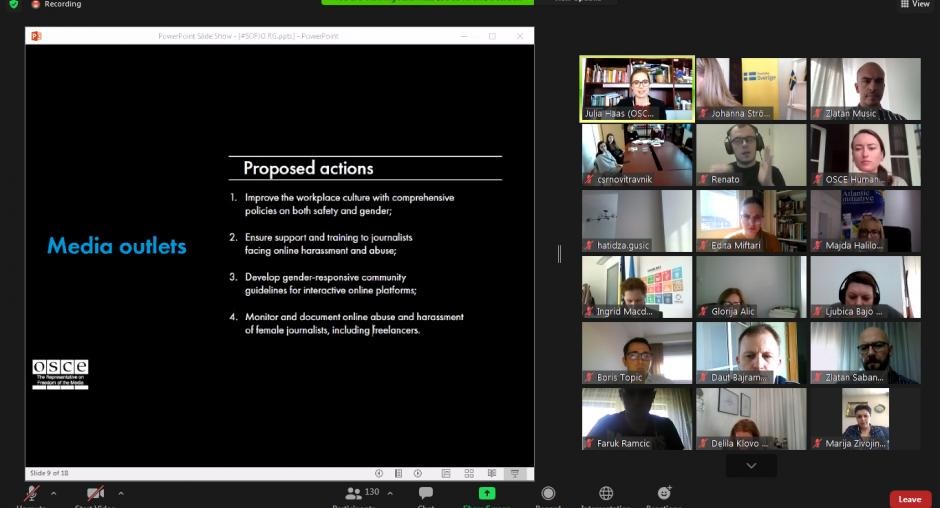 The OSCE Mission to Bosnia and Herzegovina (BiH) organized an online round table discussion on the harassment of women in the public sphere with more than 130 participants, representatives of civil society organizations, relevant institutions, international community and public.
"The aim of the event was to solicit recommendations on how to prevent and address the issue of harassment of women in public sphere. The participants discussed ways to better understand the consequences of such abuse, and also identified channels available for a response," the OSCE Mission to BiH notes in the press release.
"Women and girls are calling out abusive behaviour and discriminatory attitudes, saying enough is enough. This is a positive precondition for change, and it is important to support those who speak out," said Kathleen Kavalec, Head of the OSCE Mission to BiH. "The OSCE is committed to zero tolerance against any form of harassment and has a comprehensive programme on combatting gender-based violence against women and girls. We are working to strengthen the institutional response to gender-based violence, and to empower women and girls to recognize and report any form of harassment – especially those who are marginalized."
"Women's meaningful participation at all levels is essential in a democratic and sustainable society. To combat harassment of women in the public sphere, it is necessary for women and men to work together to overcome destructive gender stereotypes which hinder individuals and societies from reaching their full potential," said Johanna Strömquist, Ambassador of Sweden to BiH, representing the Swedish Chairpersonship of the OSCE who places gender equality among top three priorities in and for BiH.
Matt Field, British Ambassador to BiH, said: "Far too many women in public life in BiH face regular harassment, threats, insinuation and attacks. The goal is to make women feel they do not belong in public life, that they do not belong where decisions are taken. Everyone loses if that happens. We get worse politics, worse decisions, and worse policies. So I am here today to listen and understand better how we can all tackle this terrible blight, to the benefit of all."
Sexist attitudes and stereotypes are widespread in government, politics, the private sector, academia, journalism, the arts, science and technology, and even in civil society and international organizations. With this event and by voicing out our concerns we hope to contribute to awareness raising on the issue, and ensure that this type of harassment is widely recognised, discussed and effectively addressed. /ibna